VIDEO: The Ed Sullivan Show Releases Previously Unreleased Louis Armstrong Video Clips
Thea archives surpassed one billion total views across all channels (including YouTube, Apple Music and Facebook) late last year.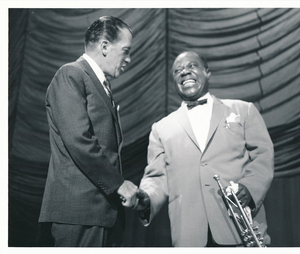 After surpassing one billion total views across all channels (including YouTube, Apple Music and Facebook) late last year, the archives of The Ed Sullivan Show have opened again to share rare vintage performances by Louis Armstrong.
As dear friends who traveled together, were both born in the same year (1901), and had a great mutual respect, it is believed that Ed Sullivan himself lent these clips to Louis Armstrong and Universal Music Enterprises.
Through SOFA Entertainment's relationship with the Louis Armstrong House Museum (LAHM) and The Louis Armstrong Educational Foundation (LAEF), we are now able to bring these clips to light for the first time in several decades.
These clips were never shown since the original broadcasts and capture Satchmo at his effusive best, one of which shows the jazz maestro and opera star Robert Merrill performing a Medley ("Vesti la giubba" and "Honeysuckle Rose") on the episode that aired on April 17, 1955.
Another new clip that was originally broadcast on CBS Network on May 15, 1955, features Armstrong alongside Gary Crosby delivering a performance of "Struttin With Some Barbecue." Originally composed as an instrumental piece in 1927 by Lil Hardin Armstrong, lyrics were added by Don Raye in 1941.
The episode that featured the latter clip also featured Sammy Davis Jr. and Señor Wences and both clips see this 20th-century icon performing on his trumpet with outstanding talent.
In November 2022, more than 50 years after his passing, the legendary Armstrong was back on the charts with the release of his first-ever Christmas album, Louis Wishes You A Cool Yule (Verve/UMe).
The collection debuted in the Top 10 across multiple Billboard charts, including Top Holiday Albums where it bowed at No. 9 and launches in the Top 10 on Jazz Albums (No. 4), Traditional Jazz Albums (No. 4), Top Album Sales (No. 7), Top Current Album Sales (No. 6) and Vinyl Albums (No. 7). It debuted at No. 122 on the Billboard 200, becoming Armstrong's highest charting album since Hello Dolly spent six weeks at No. 1 in 1964.
By the '50s, Armstrong was already widely recognized for his lifetime contribution to music, having entered the Down Beat Jazz Hall of Fame in 1952. "Satchmo" - as Armstrong was notably referenced - was also a major name on the big screen and had starred as himself in the 1954 Biopic The Glenn Miller Story. That same year he also released his second autobiography, Satchmo: My Life in New Orleans.
Throughout its historic 23-year primetime run (1948-1971), The Ed Sullivan Show brought us the hottest performances from around the world and introduced emerging talent to America's living rooms every Sunday night. The show featured some of the earliest or first televised performances of music superstars including The Band, The Beach Boys, The Beatles, The Jackson 5, The Mamas and The Papas, The Supremes, and The Rolling Stones.
The long-running variety show expanded its reach exponentially via a global digital rights agreement between UMe and SOFA Entertainment Inc. with more than 250 million YouTube views since June 2020. Scores of rarities are being made available digitally for the first-time including iconic entertainers and influential figures from just about every category of cultural relevance, including music, comedy, sports, film, dance, opera, and Broadway.