TO ALL THE BOYS I'VE LOVED BEFORE is Now Available on Netflix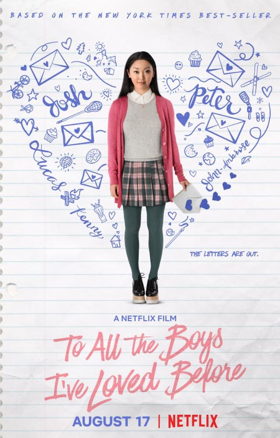 TO ALL THE BOYS I'VE LOVED BEFORE launches globally on Netflix Friday, August 17th.
Lara Jean Song Covey's love life goes from imaginary to out of control when the love letters for every boy she's ever loved-five in all -- are mysteriously mailed out. From New York Times Bestselling Author, Jenny Han, the film adaption of the popular YA novel stars Lana Condor (Alita: Battle Angel, X-Men: Apocalypse), Janel Parrish (Pretty Little Liars) and Noah Centineo (Sierra Burgess Is A Loser, The Fosters). Directed by Susan Johnson.
More About the Cast:
As one of the most up and coming talents in the entertainment industry today, Lana Condor (Lara Jean Covey) has already made a name for herself with her innate ability to bring characters to life on screen. In 2016, she made her feature film debut in Twentieth Century Fox Film's "X-Men: Apocalypse." Condor starred as Jubilation Lee, AKA Jubilee, alongside Jennifer Lawrence, James McAvoy, Michael Fassbender, Nicholas Hoult, and Rose Byrne.
In 2017, Condor was also seen as Li in Lionsgate's "Patriot's Day" alongside Mark Wahlberg and as Allison in James Franco's & Lifetime's "High School Lover." She can next be seen as Koyomi in James Cameron's highly anticipated film, "Alita: Battle Angel" out in 2018. Additionally, Lana recently started production on Awesomeness Films' and Overbrook Entertainment's "To All of the Boys I've Loved Before" playing the lead, Lara Jean Covey. The film is based off of the New York Times bestselling YA romance novel of the same name by Jenny Han.
Noah Centineo (Peter Kavinsky) just wrapped shooting the lead in Awesomeness Films' THE STAND-IN opposite Camila Mendes. Noah plays 'Brooks Rattigan', a clever and determined 18-year-old with aspirations of leaving his hometown to attend college. In an effort to finance his dream, Brooks creates a dating app wherein he assumes the role of "stand-in" boyfriend for every kind of situation you can imagine.
Additionally, Noah will soon be seen starring opposite Lana Condor in Awesomeness Films' TO ALL THE BOYS I'VE LOVED BEFORE, which was adapted from Jenny Han's YA romantic novel of the same name. Next up, Noah will be sseen starring opposite Shannon Purser in Black Label Media's SIERRA BURGESS IS A LOSER, a contemporary retelling of the classic Cyrano de Bergerac. Both films will bereleased on Netflix later this year.
Noah first came to prominence for his work in the ABC Family / Freeform series The Fosters playing 'Jesus Adam Foster', for which he was nominated for a 2017 Teen Choice Award.
Noah is based in Los Angeles.
Janel Parrish (Margot Covey) Born in Hawaii, Janel started her career with a love for music. She entered and won a state-wide singing contest at age 6 and soon followed that with being cast in the National Touring Company and Broadway Company of "Les Miserables" as Little Cosette. It wasn't long before Janel's Broadway experience and recognition led her to acting auditions in Hollywood. While studying acting, Janel continued to train vocally, eventually adding piano to her repertoire. She also began writing her own music, which led to becoming the lead singer in a 3 girl pop group called "Impulse" as well as a recording deal with Geffen Records.
For seven seasons Janel was seen on Tuesday nights appearing as "Mona" in the top-rated Freeform TV series, "Pretty Little Liars." For her role she won the "Choice TV Villain" award at the 2012, 2013, 2016 and 2017 Teen Choice Awards as well as a TV Guide Award nomination. In 2014 she finished in 3rd place on the 19th edition of the hit ABC show "Dancing with the Stars". Her love of musical theater also remains. In 2012 Parrish returned to her theater stage roots in Over the Moon Productions' intimate presentation of the Tony Award-winning Broadway musical "Spring Awakening" as Anna. In 2014 and 2015 she hit the stage in "Cruel Intentions", "For the Record: Baz Luhrmann" as well as "For the Record: Tarantino." And in 2017 she starred in the Toronto stage revival of "Grease". Other television credits include "Rush Hour", "Mysteries of Laura", "Drop Dead Diva," "Hawaii Five-O," "Heroes", "Gepetto," "Baywatch," "The O'Keefe's," "The Bernie Mac Show," "Zoey 101," "True Jackson, VP," and "The O.C." She has also graced the big screen starring in feature films such as "Bratz: The Movie," "One Kine Day" and "Knots. She is currently starring in the "Pretty Little Liars" spin-off, "The Perfectionists."
Anna Cathcart (Kitty Covey) Anna was born and raised in Vancouver, British Columbia. She lives with her supportive parents, big sister and her dog Mia.
Anna's acting career began at the age of 8 with a Campbell's Soup and Crayola commercial. After taking a small hiatus, Anna was scouted and asked to audition for the Emmy award-winning PBS Kids series Odd Squad. Within the week, Anna was packed and ready to begin the adventure living and working in Toronto as Agent Olympia, her first leading role in a television series.
Since Odd Squad, Anna has expanded her career, joining the lead cast of Disney's Descendants 2 and 3 as Dizzy, and leading in the feature To All the Boys I've Loved Before, based on the popular teen novel by Jenny Han and starring John Corbett and Janel Parrish. In addition, she appeared as Young Drizella in a recurring role on the well-known TV drama Once Upon a Time and she can be seen in her new recurring role on the upcoming Disney Channel series Fast Layne.
When she's taking a break from acting, her hobbies include hip hop dancing, taking photos and spending time with her dog.
Israel Broussard (Josh Sanderson) Israel Broussard is best known for his critically acclaimed performance in the lead role of Sofia Coppola's THE BLING RING opposite Emma Watson and Taissa Farmiga, which premiered at Cannes in 2013. He more recently starred in the Universal feature, HAPPY DEATH DAY, which was a breakout hit at the box office. He just wrapped production on the sequel.