ReFrame and IMDbPro Announce Second Round of Gender-Balanced Films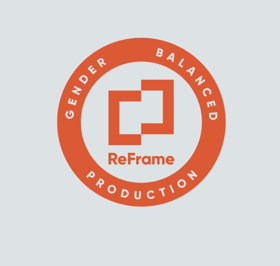 ReFrameTM (ReFrameProject.org), a coalition of industry professionals and partner companies founded In Film and Sundance Institute-whose mission is to increase the and IMDbPro (imdbpro.com/)- the essential information resource for the entertainment industry-announced today the second round of feature films that qualify for the ReFrame Stamp to recognize standout, gender-balanced films. The complete list of stamp recipients can be found at ReFrameProject.org/stamp and imdb.com/reframe. The ReFrame Stamp program launched on June 8, 2018 with the announcement of 12 films that earned the stamp out of 100 films surveyed. We then expanded the program by inviting studio and independent films that have secured U.S. domestic theatrical or streaming distribution to submit their films for stamp consideration.
The ReFrame Stamp serves as a mark of distinction for projects that have demonstrated success in gender-balanced film and TV productions based on criteria developed by ReFrame in consultation with ReFrame Ambassadors (complete list below), producers and other industry experts. Stamps are awarded by ReFrame to narrative features and television programs that hire female-identifying people in four out of eight critical areas of their production, including: writer, director, producer, lead, co-lead, speaking parts, department heads, and crew. Additional points are awarded to content that has women of color by Women number of women of all backgrounds working in film, TV and media- in key positions. The criteria are iterative and will change over time as the industry evolves. Including those announced today, 34 total films have received the ReFrame Stamp thus far.
Members of the creative community recognize the ReFrame Stamp as a dynamic lever to drive change and spotlight gender-balanced productions that hire more women, both in front of and behind the camera.
Actress Glenn Close, star of The Wife, praised the stamp and said: "I'm extremely proud to be part of a film with so many talented and determined women involved in its creation. The producers and screenwriter, all women, never gave up on getting it made, even though it took fourteen years. The sensitive and powerful film editing, costume design, haunting score, all by women, come together to create a moving and cohesive work of cinema. I hope that its success, and this recognition by ReFrame, will encourage more hiring of women and more women to follow their passion to make films."
Paul Feig, director of stamp recipient A Simple Favor, said: "As a supporter and member of the ReFrame team, as well as a filmmaker working toward the goal of inclusivity and parity in front of and behind the camera, having the ReFrame stamp on my latest film is as important to me as making sure I have film in the camera. The ReFrame seal of approval is something all studios, producers and directors should strive for. It's not that hard to do."
Haifaa Al-Mansour, director of stamp recipient Mary Shelley, said: "Having grown up in a gender- segregated society, the ReFrame Stamp is incredibly meaningful to me. Yet, there is still a long way to go in unrestricting the potential of the female voice in our society. The ReFrame Stamp is a reminder that women can thrive in every aspect of this industry, above or below the line, if we continue to push to create the opportunities that finally give them the chance."
Olivia Wilde, director of Booksmart added: "I've spent half my life on sets populated almost entirely by men, and once I was the boss, I realized that was entirely unnecessary. There is no lack of qualified women in any part of the film industry. It's simply a matter of choosing to break away from the outdated male-dominated Hollywood paradigm. I'm honored my first film received the ReFrame certification, and hope that by the time I make my next one, it won't be at all noteworthy to have a bunch of women in charge."
To apply for the ReFrame Stamp, please visit ReFrameProject.org for more information. ReFrame Stamp - Second-Round Feature Recipients
2018 Releases
A Simple Favor / USA (Director: Paul Feig, Screenwriter: Jessica Sharzer, Producers: Paul Feig, Jessie Henderson, Distributor: Lionsgate)

Can You Ever Forgive Me? / USA (Director: Marielle Heller, Screenwriters: Nicole Holofcener, Jeff Whitty, Producers: Anne Carey, Amy Nauiokas, David Yarnell, Distributor: FOX Searchlight Pictures) Capernaum / USA (Director: Nadine Labaki, Screenwriters: Jihad Hojeily, Michelle Keserwany, Nadine Labaki, Khaled Mouzanar, Producers: Michel Merkt, Khaled Mouzanar, Distributor: Sony Pictures Classics)
Crazy Rich Asians / USA (Director: Jon M. Chu, Screenwriters: Peter Chiarelli, Adele Lim, Producers: Nina Jacobson, John Penotti, Brad Simpson, Distributor: Warner Bros.)
Destroyer / USA (Director: Karyn Kusama, Screenwriters: Phil Hay, Matt Manfredi, Producers: Fred Berger, Phil Hay, Matt Manfredi, David Diliberto, Nathan Kelly, Distributor: Annapurna Pictures) The Favourite / USA (Director: Yorgos Lanthimos, Screenwriter: Deborah Davis, Tony McNamara, Producers: Ceci Dempsey, Ed Guiney, Yorgos Lanthimos, Lee Magiday, Distributor: FOX Searchlight Pictures)
Freelancers Anonymous / USA (Director: Sonia Sebastia?n, Screenwriters: Lisa Cordileone, Amy Dellagiarino, Producers: Lisa Cordileone, Amy Dellagiarino, Eugene Park, Sonia Sebastia?n, Distributor: Juice Worldwide)
Gemini / USA (Director: Aaron Katz, Screenwriters: Aaron Katz, Producers: Mynette Louie, Sara Murphy, Adele Romanski, Distributor: Neon)
IRL / USA (Director: Ricardo Perez-Selsky, Screenwriter: Chase Hinton, Producers: Molly Beucher, Chase Hinton, Ricardo Perez-Selsky, Distributor: TBD)
Jane and Emma / USA (Director: Chantelle Squires, Screenwriter: Melissa Leilani Larson, Producers: Brent Geisler, Madeline Jorgensen, Jenn Lee Smith, Chantelle Squires, Distributor: Excel Entertainment Group)

The Long Dumb Road / USA (Director: Hannah Fidell, Screenwriters: Hannah Fidell, Carson Mell, Producers: Jonathan Duffy, Hannah Fidell, Jacqueline E. Ingram, Kelly Williams, Distributor: Universal Pictures Home Entertainment)
Mary Shelley / USA (Director: Haifaa Al-Mansour, Screenwriter: Haifaa Al-Mansour, Emma Jensen, Producers: Amy Baer, Ruth Coady, Alan Moloney, Distributor: IFC Films)
Miss Arizona / USA (Director: Autumn McAlpin, Screenwriters: Autumn McAlpin,
Producers: DeAnna Cooper, Autumn McAlpin, Distributor: TBD)
The Polka King / USA (Director: Maya Forbes, Screenwriters: Maya Forbes, Wallace Wolodarsky, Producers: Jack Black, Stuart Cornfeld, Monica Levinson, Priyanka Mattoo, David Permut, Shivani Rawat, Wallace Wolodarsky, Distributor: Netflix)
The Wife / USA (Director: Bjo?rn Runge, Screenwriter: Jane Anderson, Producers: Claudia Bluemhuber, Peter Gustafsson, Rosalie Swedlin, Piers Tempest, Distributor: Sony Pictures Classics)
2019 Releases
Booksmart / USA (Director: Olivia Wilde, Screenwriters: Emily Halpern, Sarah Haskins, Katie Silberman, Producers: Chelsea Barnard, David Distenfeld, Jessica Elbaum, Megan Ellison, Distributor: GEM Entertainment)

Five Feet Apart / USA (Director: Justin Baldoni, Screenwriters: Mikki Daughtry, Tobias Iaconis, Producers: Justin Baldoni, Cathy Schulman, Christopher H. Warner, Distributor: CBS Films)
Juanita / USA (Director: Clark Johnson, Screenwriter: Roderick M. Spencer, Producers: Stephanie Allain, Jason Michael Berman, Caroline Connor, Mel Jones, Alfre Woodward, Distributor: Netflix)

Late Night / USA (Director: Nisha Ganatra, Screenwriter: Mindy Kaling, Producers: Ben Browning, Mindy Kaling, Howard Klein, Scott Rudin, Distributor: Ascot Elite Entertainment Group)
The Lie / USA (Director: Veena Sud, Screenwriter: Veena Sud, Producers: Aaron Barnett, Jason Blum, Alix Madigan, Christopher Tricarico, Distributor: Blumhouse Productions)
Otherhood / USA (Director: Cindy Chupack, Screenwriters: Mark Andrus, Cindy Chupack, Producers: Jason Michael Berman, Katie Mustard, Cathy Schulman, Distributor: Netflix)
Untitled Pippa Bianco Project / USA (Director: Pippa Bianco, Screenwriter: Pippa Bianco, Producers: Eli Bush, Tyler Byrne, Matt Code, Carly Hugo, Matthew Parker, Scott Rudin, Distributor: A24)
Related Articles
View More TV

Stories