Nyle Lynn Stands Her Ground With Vincent Pastore In THE KIDS MENU At SOHO Int'l Film Festival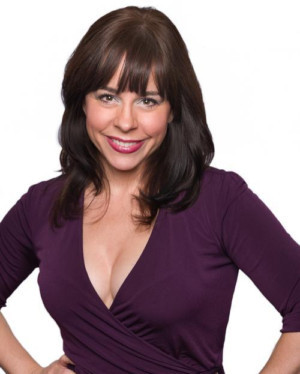 Award-winning actress/producer Nyle Lynn stands her Brooklyn ground opposite acting heavyweight Vincent Pastore (The Sopranos) in the new indie film, THE KIDS MENU, screening as an 'Official Selection' at the SOHO International Film Festival on June 17th.
Nyle has already earned 5 'Best Actress' awards for her role as the headstrong mom 'Kat' at the LA Shorts Awards, Los Angeles Film Awards, London Independent Film Awards, NYC Indie Film Awards and New York Film Awards.
Directed by the award-winning Paul Borghese from a script by Pulitzer nominated writer Richard Vetere, THE KIDS MENU tells a clashing tale of Old School Brooklyn vs. New School Brooklyn at the local pizzeria. When set-in-his-ways Italian pizzeria owner Pete 'Pugs' Puglisi (Pastore) meets modern mom Kat (Nyle) in this dramedy, tensions and calorie counts rise. The result is a comedic look at the serious issue of hyper-gentrification that is closing so many beloved 'mom & pop' shops all over New York.
Pastore earned the Spirit of New York Award at the Big Apple Film Festival for his role in the film, adding "Nyle Lynn is a wonderful actor and a great first time producer." Borghese also shares, "Nyle Lynn is easy to direct and she's also a natural comedic actress!"
THE KIDS MENU is a film Nyle immediately knew was special, explaining "I go to a lot of script reading workshops in New York City, and as soon as I heard this one, I knew I wanted to be a part of it. So, I rushed up to the writer, Richard (Vetere), not knowing who he was, and I told him - I wanna make your play into a movie. He was excited about the idea and very generously offered to bring on his friends, Vinny (Pastore) and Paulie (Borghese), to act and direct. Little did I know he was talking about two seasoned industry pros - which I soon realized and from whom I ended up learning so much!"
To the get project off the ground, Nyle also realized it would take a collaborative effort. First, she turned to several of her creative friends, including executive producers Maayan Schneider, Michelle Felice Hartley, Massiel Hernandez and Kelly Karavites. Then, she brought in some other experts, like editor Shane Maritch, executive consultant Mim Paquin, celebrity makeup artist Gina Nicora and casting director Helene Galek to name a few. Plus, she scored when Borghese brought on talented actor Mario Macaluso (Boardwalk Empire) as Pastore's nephew, who also allowed them to shoot at his local pizzeria, Pete's Brooklyn Eats.
After SOHO, THE KIDS MENU will continue on its successful festival run heading to the JERSEY SHORE Film Festival as an 'Official Selection' this August.
Originally from Maryland, Nyle has built a solid background in theatre appearing in many shows Off-Broadway and beyond. Branching out, Nyle has appeared on-camera in numerous projects, from festival films at Tribeca Film Festival to television and new media shows on ABC, TLC, Comedy Central and more. Her favorite acting experiences so far were playing an edgy dramatic lead at The Actors Studio in New York City, performing Shakespeare in London, and doing spoofs on Comedy Central. Up next, Nyle will be assistant directing Marishka Phillips' new project, and then in the fall she is on-board to star in a new film written by Angela Hayden.
'THE KIDS MENU' - SOHO International Film Festival / 'NY Filmmakers Series'
Date/Time: Sunday, June 17, 2018 at 11:00AM - 2:00PM
Venue: Village East Cinema (189 2nd Avenue, Auditorium # 1, NYC 10003)
Tickets/Info: www.sohofilmfest.com
For more about NYLE LYNN visit: www.NyleLynn.com
THE KIDS MENU visit: facebook.com/KidsMenuMovie
Related Articles View More TV

Stories
More Hot Stories For You