MAY IT LAST: A PORTRAIT OF THE AVETT BROTHERS Documentary Premiering on HBO on 1/29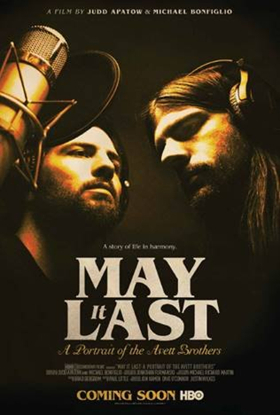 An intimate documentary following acclaimed North Carolina band the Avett Brothers, as they create their 2016 hit album "True Sadness."
From longtime fans Judd Apatow and Michael Bonfiglio and filmed with extraordinary access over the course of more than two years, MAY IT LAST is an intimate portrait of the acclaimed North Carolina band The Avett Brothers, charting their decade-and-a- half rise, while chronicling their present-day collaboration with famed producer Rick Rubin on the multi-Grammy-nominated album "True Sadness," which was released on American Recordings/Republic Records. With the recording process as a backdrop, the film depicts a lifelong bond and unique creative partnership, as band members undergo marriage, divorce, parenthood, illness, and the challenges of the music business. More than just a music documentary, MAY IT LAST is a meditation on family, love, and the passage of time.
The documentary stars Scott Avett, Seth Avett, Bob Crawford, Joe Kwon, Paul Defiglia, Mike Marsh, Tania Elizabeth & Rick Rubin. It is directed and produced by Judd Apatow and Michael Bonfiglio.
Watch the teaser trailer here: