Kyra Sedgwick and Kevin Bacon Urge People to Volunteer for Midterms in SWING LEFT Video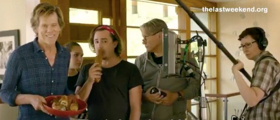 The organization Swing Left took to Twitter to urge Americans to get out and volunteer for the midterm elections. They even had help sharing their plea from Kevin Bacon and Kyra Sedgwick. Watch the video below!
About Swing Left
A national grassroots organization of hundreds of thousands of volunteers working to take back the House for Democrats in 2018.
Swing Districts are places where the winner of the last House of Representatives election was determined by a thin margin. Swing Left helps you find and commit to supporting progressives in your closest Swing District so that you can help ensure we take back the House in 2018.