HAP AND LEONARD: THE TWO-BEAR MAMBO Returns to Sundance TV, Today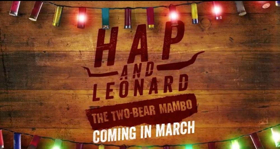 SundanceTV announced today that the third installment of the network's critically-acclaimed original scripted anthology series, HAP AND LEONARD: THE TWO-BEAR MAMBO will return tonight at 10p/9c. The six-part drama, takes inspiration from the third installment of the popular book series, The Two-Bear Mambo, by famed author Joe R. Lansdale. View a Teaser of the Upcoming Season HERE
Principal cast James Purefoy ("The Following," "Rome") and Michael Kenneth Williams ("The Night Of," "The Wire," 12 Years a Slave) will return as title characters Hap and Leonard, and will be joined by a brilliant ensemble cast including Oscar® award-winner and multiple Golden Globe® and Emmy® award-winning actor, Louis Gossett Jr. (An Officer and a Gentleman, Roots), Emmy® and Golden Globe® award nominee Corbin Bernsen ("L.A. Law," "Psych"), Andrew
DICE
Clay (Blue Jasmine, "Entourage"), Laura Allen ("American Horror Story: Cult," Mona Lisa Smile) and musician Curtis Harding. Set once again in East Texas just before Christmas of 1989,
HAP AND LEONARD
scramble to locate Florida Grange, who has gone missing in the Klan-infested town of Grovetown. Once again at the center of an impending storm of Biblical proportion,
HAP AND LEONARD
find themselves at odds with a cast of characters so tough they could chew the bumper off a pickup truck, including a possibly corrupt sheriff, and the leader of the Caucasian Knights. The boys learn that the good guys don't always win, and nobody beats Mother Nature. The anthology series follows two lifelong best friends, Hap Collins (Purefoy), an East Texas white boy with a weakness for Southern women, and Leonard Pine (Williams), a gay, black Vietnam vet with a hot temper. Tiffany Mack (Wicked Love, "Timeless", "iZombie") who stars as Florida Grange, Leonard's lawyer and the object of Hap's deep admiration, and Cranston Johnson ("Atlanta," Find a Way) who plays Detective Hanson, return as series regulars. "Hap and Leonard" is a wholly-owned original series produced by
AMC
Studios. John Wirth ("Hell on Wheels," "Terminator: The Sarah Connor Chronicles") returns as showrunner and executive producer for season three, and Jim Mickle, Nick Damici, Jeremy Platt and Linda Moran return as executive producers. Episodes will be directed by Jim Mickle, Abe Sylvia and Michael Katleman. Joining the writing team this season is Pam Veasey, along with previous writers Nick Damici, Ione Lloyd, Jim Mickle and John Wirth.