Fusion Film Festival 2018 to Celebrate Diversity and Inclusion in Film and TV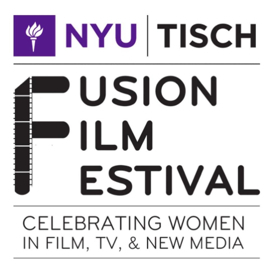 The Fusion Film Festival, NYU Tisch School of the Arts' premiere student film festival celebrating women creators in film, TV, and new media will showcase the work of emerging female filmmakers through three days of screenings and panels beginning Thursday, April 5 and running throughSaturday, April 7. Against the backdrop of the #MeToo and TIME'S UP movements, this year's theme "Where Change Begins" will celebrate diversity and inclusion efforts and honor the artists and storytellers changing the entertainment industry. All events are free of charge.
This year, Fusion will honor Karen Horne, NBC's Senior Vice President of Programming Talent Development & Inclusion, at Brunch with a Changemaker on Saturday, April 7. Horne oversees NBC's Talent Infusion Programs (NBC TIPS), which discover and develop diverse talent on-screen and behind-the-scenes and include Female Forward, the network's latest initiative that forges a path for female television directors. NBC TIPS alumni include Mindy Kaling, Jenny Hagel, Lil Rey Howery, Keto Shimuzu, Kat Coiro, Nisha Ganatra, Natasha Rothwell and Alan Yang.
As part of the festival, Horne will also moderate the discussion "Real Talk: Breaking into the Biz" featuring a panel of successful women in entertainment and media offering advice on how to break into the industry (Saturday, April 7 at 12 p.m. at the Tisch Theatre 006, 721 Broadway). Panelists include writer-producer Radha Blank (Netflix's "She's Gotta Have It"), actor Audrey Esparza ("Blindspot"), Yvette Miley (Senior Vice President, MSNBC, and NBC News) and Amber Payne (Executive Producer at Teen Vogue and them).
"Karen Horne's sustained work in creating authentic opportunities for under-represented artists has been both heroic and thrilling," said Susan Sandler, Fusion faculty advisor and Tisch film and TV professor. "The more than twenty programs she oversees for NBC's TIPS Program has resulted in this major media company's success in discovering talent where no one else is looking."
Fusion's 16th Anniversary Festival will will open Thursday, April 5 with a screening of the award-winning doc "Real Boy" by Shaleece Haas, an intimate story about a 19-year-old boy navigating the transition into adulthood and his evolving gender identity, held at the Cantor Film Center. The Competition Screening and Award Ceremony will close the festival on Saturday, April 7 at 6:30 p.m., showcasing the next generation of storytellers through screenings, award presentations, and a reception. Winners will be announced in thirteen competition categories including animation, music video, web series, and feature screenplay and will take home grants and prizes from Canon, Movado, Avid, Adobe, and Final Draft. The Will and Jada Smith Family Foundation generously supports the Fusion Film Festival through writing and filmmaker prizes awarded in ten categories of the festival's competition.
In addition to film screenings throughout the three-day festival, Fusion offers a variety of special events, including "Artists and Activists", "Women in New Media"-highlighting the work of innovative artists through podcasts, virtual reality, and more-and a Master Class with the Queer Producer's Collective-a discussion with distinguished producers representing a range of experiences and identities-all highlighting a commitment to eradicating inequality in the entertainment industry.
The Festival will also feature a "Docs-in-the-Works" pitch competition giving five finalists with documentary films in the early stages of production the opportunity to receive feedback from top industry executives including Jacqueline Glover, Tisch alumna and senior vice president of HBO DOCUMENTARY FILMS for Home Box Office.
"These are difficult times politically, but we will continue to fight for inclusion until we achieve true equality and representation," said Fusion's student co-directors Priya Khanolkar and Rachel Lambert.
For Fusion Festival 2018 updates and a full list of programming and events, please visit www.fusionfilmfestival.com. All events are free and open to the public on a first-come, first- served basis. This year's festival is sponsored by NBC, Canon, Avid, Adobe, Final Draft, and Movado.
About Fusion Film Festival
The Fusion Film Festival is NYU Tisch's premiere festival dedicated to celebrating the work of women in film, television and new media, from student to icon. In the 16 years since its launch, the student-run festival has attracted accomplished artists such as Melina Matsoukas, Reed Morano, Christine Vachon, Jane Campion, Julie Taymor, Kasi Lemmons, Miranda July, Stella Meghie, Lena Dunham, Amy Sherman Palladino, Barbara Kopple, and Misha Green. Fusion is proud to be an Allied Partner of the Sundance Women's Initiative. BEYOND the multi-day annual showcase of work, Fusion offers year round events, building a vital artistic community for both current students and alumni, exploring ways to break down barriers for women in film and television, while creating valuable opportunities for collaboration, cross-promotion and mentorship. For more information, visitwww.FusionFilmFestival.com.