CNBC's Hit Reality THE PROFIT Debuts On Universo As EL SOCIO With Business Expert Marcus Lemonis This Sunday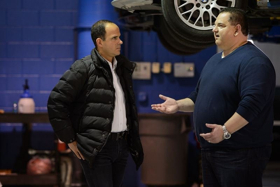 UNIVERSO, announced today the premiere "El Socio," hosted by business tycoon from Miami, Marcus Lemonis this Sunday, July 22 at 10PM/9C. For the first time on Spanish-language television in the U.S., the cut-throat entrepreneur will invest his time - and money - into 18 different businesses ranging from struggling restaurants to family-owned store fronts but with one catch; his money, his rules.
In exchange for the risky investment, "El Socio" is obligated to own a piece of the business and a percentage of the profits. Once the owners take his deal, Lemonis has full control of the company and will do whatever it takes to turn a failing business into a successful profit, even if it includes doing the work himself or firing the president. Catch the season premiere this Sunday, to watch one hopeful business owner entrust Lemonis with his entire life savings. Stay tuned to discover if the business mastermind will be able to save the company or drive it into the ground because as Marcus Lemonis says, "If you don't believe in taking risks, then you're not really an entrepreneur."
Fans can engage on social media by using #ElSocio and find more content about the show on Facebook https://www.facebook.com/nbcuniverso and Instagram https://www.instagram.com/nbcuniverso.
Besides enjoying the episodes on TV, subscribers of UNIVERSO on participating cable, satellite, and telco services will also be able to view full episodes of "El Socio" through Video on Demand and on the UNIVERSO NOW app by entering the subscriber's login information.
To find UNIVERSO on your satellite, telco or cable TV channel lineup, go to Channel 410 on DIRECTV; Channel 838 on DISH Network; Channel 3009 or 3010 on AT&T U-verse; and visit www.encuentranbcuniverso.com for the UNIVERSO channel number on your local cable TV listings.
UNIVERSO is currently available to 40 million households across the U.S. The network is telecast in HD nationwide on DirecTV; Western U.S. markets served by Comcast Xfinity TV; throughout Bright House Networks' cable television footprint; and select Cox Communications markets.
ABOUT UNIVERSO
UNIVERSO is a Spanish-language entertainment cable network that brings immersive original programming and the world's top sports franchises to more than 40 million households. As one of the most widely available cable channels for U.S. Hispanic audiences, UNIVERSO delivers a thrilling mix of original scripted series, celeb-reality shows, mainstream signature series, blockbuster movies and exclusive sports action - including CONCACAF, Premier League, Confederations Cup, FIFA World Cup™, WWE and must-see live events on TV, online and mobile devices. UNIVERSO is part of NBCUniversal Telemundo Enterprises, a division of NBCUniversal, one of the world's leading media and entertainment companies. NBCUniversal is a subsidiary of Comcast Corporation.
Image courtesy of Universo
Related Articles
View More TV

Stories
More Hot Stories For You