Leonard Bernstein's CANDIDE Makes Its Atlanta Opera Debut 
Acclaimed cast performs the classic tale of the globe-trotting innocent who learns that life is, well, life.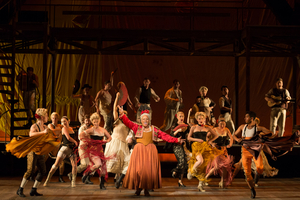 Leonard Bernstein's classic comedy operetta Candide makes its long-awaited debut at The Atlanta Opera, featuring an acclaimed cast of rising stars and veterans of the Metropolitan Opera in an all-new production.
From its rollicking overture to its modern classics, "Glitter and Be Gay" and "Make Our Garden Grow," stage director Alison Moritz's production follows the innocent Candide, raised to believe he lives in the "best of all possible worlds" as he navigates a series of unfortunate events and begins to question his life's philosophy.
"I am looking forward to sharing the first ever Atlanta Opera production of Candide," said Carl W. Knobloch, Jr. General and Artistic Director Tomer Zvulun. "I am particularly excited about the hilarious cast that we have assembled for this show. I am sure that their interpretation under the guidance of this brilliant creative team will bring much needed humor and joy to this performance."
The Atlanta Opera presents Candide on March 4, 7, 10 and 12 at Cobb Energy Performing Arts Centre. Tickets start at $48 and can be purchased at atlantaopera.org or by calling 404-881-8885. The opera will be performed in Italian with English supertitles.
Additionally, the performance will be filmed by The Atlanta Opera Film Studio and available for livestream viewing on Friday, March 10 at atlantaopera.org.
This production will be performed under the baton of James Lowe, a Grammy-nominated conductor, arranger, and composer. Lowe continues to garner praise for "beautifully sculpted" (Opera News) performances. He appears regularly with major opera houses in the US and abroad, as well as on Broadway. In recent seasons he has appeared at Lyric Opera of Chicago, San Francisco Opera, Houston Grand Opera, Washington National Opera, the Théâtre du Capitole in Toulouse and Opéra National de Bordeaux.
Stage director Moritz is quickly garnering a reputation for both incisive takes on contemporary American opera and innovative interpretations of the classic repertoire. Her productions have been lauded as "raw, funny, surreal, and disarmingly human" by Opera News. Upcoming projects include filmed world premieres for the Glimmerglass Festival and Experiments in Opera, a new production of Cosi fan tutte for Washington National Opera, and a landmark 50th Anniversary event for the Kennedy Center featuring the NSO.
Soprano Deanna Breiwick, hailed by The New York Times for her "sweet sound and floating high notes" and for being a "vocal trapeze artist," will sing the role of Cunegonde. In addition to making her debut with The Atlanta Opera, she will also debut this season at San Francisco Opera, Gran Teatre del Liceu in Barcelona, and Philharmonia Baroque Orchestra in San Francisco. She is a Metropolitan Opera National Council Grand Finalist and Grand Prize Winner of the Sullivan Foundation Vocal Competition.
In the title role, Jack Swanson is quickly becoming one of the most sought-after young tenors in the opera world. His distinctive high lyric voice is known for singing the acrobatic arias of Rossini and the legato melodies of Donizetti. Swanson is also an in-demand interpreter of Leonard Bernstein's work, appearing in recital with the Orchestre National de Lille and Moab Music Festival and debuting this role with the L.A. Opera. This is his The Atlanta Opera debut.
Dubbed "the Robin Williams of opera" (New York Times), bass Kevin Burdette will sing the role of Voltaire/Dr. Pangloss. A frequent performer for Atlanta audiences, including Dead Man Walking, The Pirates of Penzance and Threepenny Opera, he serves on the faculty of The Atlanta Opera Studio, the company's first young artist program, and may be heard on the Metropolitan Opera's Grammy- and Diapason d'Or-winning Deutsche Grammophon recording of The Tempest.
Tenor Victor Ryan Robertson returns to The Atlanta Opera in the roles of Governor, Vanderdenur, Baron and Ragotski. Robertson made his Metropolitan Opera debut in their new 2018 production of Merry Widow, and in the same year, his Broadway debut in its longest running show, Phantom of the Opera. He last performed Candide at Opera National de Lorraine in France.
Known for his "rich, resonant baritone" (Opera News), Craig Irvin will sing the multiple roles of Maximilian, Grand Inquisitor and Sea Captain. Widely recognized for his portrayal of Lt. Horstmayer in Kevin Puts' Silent Night, which he has sung across the country including in Atlanta, Irvin is equally at home in dramatic and comic roles. He last appeared at The Atlanta Opera as the Pirate King in the 2022 performance of Pirates of Penzance.
Tenor Tyler Nelson, noted for his "big, penetrating sound" (The Wall Street Journal) makes his role debut as Cacambo, the valet. Recognized as one of America's most promising young tenors, Nelson is enjoying success in a wide variety of concert repertoire and stage performances, including with Irish National Opera, Opera on the James, Opera Saratoga, New Orleans Opera, and Opera Orlando.
The 2021 Actors Equity Foundation Roger Sturtevant Award recipient and a 2021 Drama League Award nominee, Curtis Bannister is lauded as "a tenor of impressive stamina" by The New York Times as he continues to establish himself as one of the most dynamic and multi-genre performing artists of his generation for his performances in film, theatre & opera. He is making his The Atlanta Opera and role debut as Martin, Candide's pessimistic travelling companion.
About The Atlanta Opera
The Atlanta Opera's mission is to build the major international opera company that Atlanta deserves, while reimagining what opera can be. Founded in 1979, the company works with world-renowned singers, conductors, directors, and designers who seek to enhance the art form. Under the leadership of internationally recognized stage director and Carl W. Knobloch, Jr. General & Artistic Director Tomer Zvulun, The Atlanta Opera expanded from three to four mainstage productions at Cobb Energy Performing Arts Centre and launched the acclaimed Discoveries series. In recent years, the company has been named among the "Best of 2015" by the Atlanta Journal-Constitution, has been nominated for a 2016 International Opera Award, and won ArtsATL's 2019 Luminary Award for Community Engagement in recognition of its successful Veterans Program in partnership with the Home Depot Foundation. In addition, The Atlanta Opera was featured in a 2018 Harvard Business School case study about successful organizational growth, and Zvulun presented a TEDx Talk at Emory University titled "The Ambidextrous Opera Company, or Opera in the Age of iPhones." During the COVID-19 pandemic, The Atlanta Opera was one of the only companies in the world to create a full, alternative season, consisting of no less than 40 live performances in two different outdoor venues, including a revolutionary custom-designed circus tent. The fundraising goal was tripled, and four new productions were created, each of which employed 150 cast, crew and staff. The critically acclaimed productions and concerts were streamed in HD in the newly created streaming platform "Spotlight Media," allowing The Atlanta Opera to reach a global audience. National media coverage of the "pandemic season" included features in the Wall Street Journal and PBS Newshour. For more information, visit atlantaopera.org.