Heartbeat Opera Announces Radically Staged Versions Of Two Classics: DON GIOVANNI And FIDELIO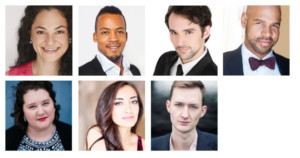 After last season's much-buzzed-about Butterfly and Carmen, HEARTBEAT OPERA-the daring young company whose unconventional orchestrations and stagings of classic operas have been called "a radical endeavor" by Alex Ross in The New Yorker-returns to Baruch Performing Arts Center with its fourth annual Spring Festival May 2-13, 2018. Heartbeat will premiere adaptations of two operatic masterpieces, both radically staged, trimmed down and re-orchestrated: Mozart's DON GIOVANNI and Beethoven's FIDELIO.
Once again at the helm will be Heartbeat Co-Artistic Directors
Louisa Proske
and
Ethan Heard
and Co-Music Directors
Jacob Ashworth
and
Daniel Schlosberg
. These four graduates of the Yale School of Drama and Yale School of Music founded Heartbeat Opera in 2014 and have since brought a number of great works of the operatic canon into the 21st century through visionary adaptations, offbeat chamber music arrangements, and visceral productions that put the singers and instrumentalists at the center of the work.
Cantata Profana
, Heartbeat's "crack chamber ensemble" (The New Yorker), will perform Daniel Schlosberg's new instrumental arrangements, which have been called "ingenious" by The Wall Street Journal. Schlosberg works in tight communication with Ms. Proske and Mr. Heard to create original arrangements that are closely tied to the directors' visions of these iconic operas. DON GIOVANNI'S WOMEN The three women of DON GIOVANNI will be brought into new light by director
Louisa Proske
as powerful, diverse, and complex people. Donna Elvira is portrayed by the young emerging singer
Felicia Moore
; Donna Anna is Berlin-based Met cover
Leela Subramaniam
; and Zerlina is Puerto Rico's
Samarie Alicea
, who played the lead of Figaro 90210! off-Broadway.
MOZART'S CLARINET The novel element in Mozart's original orchestration of DON GIOVANNI is the prominence of the clarinets, which at that very moment were coming into their modern form as the primary voice of the winds. After a life-long fascination with the clarinet, Mozart finally had access to good players with remodeled instruments, giving him new coloristic expression for a group of late works that peaked with his iconic chamber music masterpiece, the Clarinet Quintet. Daniel Schlosberg's new orchestration of DON GIOVANNI-for clarinet, string quartet, bass, and harpsichord-takes Mozart's lead in his own Quintet to cast the clarinet, like Giovanni himself, as the outsider. The clarinet has a unique capacity to be both the loudest sound, impossible to ignore, and to blend in almost to the point of being imperceptible. Like Giovanni, the clarinet is a shapeshifter.
A FIDELIO FOR 2018 In Heartbeat's version of FIDELIO, Leonore is now "Leah," a young black woman, and her husband Florestan is "Stan," a Black Lives Matter activist who has been wrongfully incarcerated. Leah dreams that she becomes "Leo," a butch female prison guard who attempts to rescue Stan from death in prison. Together with playwright Marcus Scott, Ethan Heard has made the dialogue fresh and American, eliminated two major roles, and altered the ending.
Among the four black leads is Angolan immigrant
Nelson Ebo
, who plays the imprisoned Stan. Born in 1984 during the civil war, Ebo watched nine of his siblings and both parents die due to illness and war. A U.N. representative heard a teen-aged Ebo sing and helped him emigrate to receive formal opera training. Singing literally became his way out of Angola, which had become a virtual prison. FIDELIO is known for its stirring "Prisoners' Chorus," an ode to freedom, hope, and the human spirit. Heartbeat invited six prison choirs to learn and record a new version of this hymn. All six recordings will be layered and combined so that the audience hears the voices of people in prison in Ohio, Iowa, Minnesota, and Kansas, singing together in harmony. Schlosberg's new orchestration of FIDELIO-for two French horns, two cellos, two pianos, and percussion-will channel the emotional core of the opera. The instruments reflect Leah's hope and struggle, from the deep expressivity of the cellos to the bold resolve of the horns. Bolstered by a battery of pianos and drums, the instrumentation pulls listeners through a vast yet intimate journey into Leah's psyche. Heartbeat Opera's
DON GIOVANNI
Cast & Production Details
John Taylor Ward (Don Giovanni) Wednesday, May 2, 8:00pm
Friday, May 4, 8:00pm
Sunday, May 6, 3:00pm (Gala Double Bill)
Tuesday, May 8, 8:00pm
Thursday, May 10, 8:00pm
Saturday, May 12, 8:00pm
Music by Wolfgang Amadeus Mozart
Libretto by Lorenzo Da Ponte Stage Direction
Louisa Proske
Music Direction Jacob Ashworth
New Arrangement Daniel Schlosberg Musical Staging and Choreography Chloe Treat
Set Design Kate Noll
Costume Design
Beth Goldenberg
Lighting Design Oliver Wason
Stage Manager
Dane Urban
CAST:
Zerlina
Samarie Alicea
Leporello
Matthew Gamble
Don Ottavio
Nathan Haller
Donna Elvira
Felicia Moore
Donna Anna
Leela Subramaniam
Don Giovanni
John Taylor
Ward
Masetto/Commendatore
Barrington Lee
ORCHESTRA:
2 Violins, Viola, Cello, Bass, Clarinet, Harpsichord Heartbeat Opera's
FIDELIO
Cast and Production Details
L to
Thursday, May 3, 8:00pm
Saturday, May 5, 8:00pm
Sunday, May 6, 7:30pm (Gala Double Bill)
Wednesday, May 9, 8:00pm
Friday, May 11, 8:00pm
Sunday, May 13, 3:00pm
Music
Ludwig van Beethoven
Original libretto Joseph Sonnleithner & Georg Friedrich Sonnleithner Adaptation and Stage Direction
Ethan Heard
New Arrangement and Music Direction Daniel Schlosberg
New English Dialogue Marcus Scott &
Ethan Heard
Movement Direction Emma Crane Jaster
Scenic Design
Reid Thompson
Lighting Design Oliver Wason
Costume Design Valérie Therese Bart
Hair & Makeup Design
Jon Carter
Sound Design
Ian Williams
Projection Design
Nicholas Hussong
& Joey Moro
Stage Manager Jakob Plummer CAST:
Roc
Derrell Acon
Marcy
Malorie Casimir
Stan
Nelson Ebo
Leah/Leo
Kelly Griffin
Pizarro
Daniel Klein
ORCHESTRA:
2 pianos, 2 celli, 2 horns, percussion PRISON CHOIRS:
Oakdale Community Choir
Iowa Medical and Classification Center, Oakdale, IA
Mary Cohen, Conductor Ubuntu Men's Chorus
London Correctional, London, OH
Catherine Roma, Conductor Kuji Men's Chorus
Marion Correctional, Marion, OH
Catherine Roma, Conductor Hope Thru Harmony Women's Choir
Dayton Correctional, Dayton, OH
Catherine Roma, Conductor
Voices of Hope
Minnesota Correctional Facility, Shakopee, MN
Amanda Weber, Conductor
East Hill Singers
a program of Arts in Prison
Lansing Correctional Facility, Lansing, KS
Kirk Carson, Conductor
Heartbeat Opera