Review: Live from New York, It's On Site Opera's AMAHL AND THE NIGHT VISITORS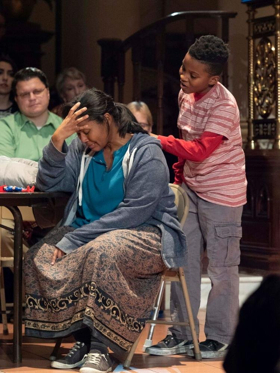 The touching, moving, brilliantly reconceived version of Gian Carlo Menotti's AMAHL AND THE NIGHT VISITORS, performed this week by New York's vibrant On Site Opera (OSO), had the audience at the Church of the Holy Apostles Church alternately in tears and cheering.
On weekdays, Holy Apostles, on Ninth Avenue and 28th Street in Manhattan, serves as the city's largest soup kitchen, dating back over 35 years. So it was only fitting that this site-specific new production of the opera--originally in Bethlehem, just after the birth of Christ--here was set among the homeless community, which has reached its highest numbers in New York City since the Great Depression of the 1930s.
But make no mistake: This was a first-rate opera performance that took no back seat to its updated setting and message. Staging the piece in the round to bring the audience closer to the action, Eric Einhorn, director of the evening as well as artistic director of OSO, moved the 45-minute chamber piece succinctly and wisely.
Backed by the American Modern Ensemble under the sure guidance of OSO's Music Director Geoffrey McDonald (hidden from sight at one side of the church), Menotti's vivid writing and story-telling absorbed us with their vitality. Not a moment of the work felt padded, not a note out of place, with its hyper-melodic score. In arias, such as the Mother's "All that gold," King Kaspar's "This is my box" or King Melchior's "Oh, woman, you can keep that gold," to name a few, Menotti's writing gifts came blazing through.
The finds of the evening was the ravishing soprano of Aundi Marie Moore as Amahl's mother and boy soprano Devin Zamir Coleman, with his crystalline voice, as Amahl, her disabled child who hobbles with a crutch (he alternated with Luciano Pantano). Amahl may be physically challenged, but there was nothing pitiful about him; rather, as portrayed by young Coleman, he was a spirited child given to storytelling and mischief, though protective of his mother.
When he had his first glimpse of the Three Kings at his door--wanting to stop for rest and a bit of sustenance at the meager dwelling as they followed the star of Bethlehem to find the Christ child --the sense of wonder he showed was infectious. Who could blame him?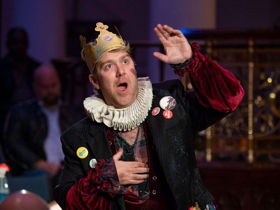 In the hands of tenor Joseph Gaines (King Caspar), baritone Daniel Belcher (King Melchior) and bass Musa Ngqungwana (King Balthazar), the Wise Men gave the right tone, even if not dressed resplendently. (Jessica Jahn did the creative costuming.) Here, they were street people, with their shopping carts and doll stroller in tow but dignity intact; their smart acting and heart-felt singing made the music soar in the simplicity of Einhorn's staging. The choreography by Winston A. Benons, Jr. put the dancing in the Met's new productions this season to shame.
Bass Jonathan R. Green set just the right tone as their page (recast as a kind of security guard), even when he had to play the "heavy," discovering Amahl's mother trying to steal some of the kings' gold. But it was the chorus created by members of the community of Breaking Ground, OSO's collaborator in the event and the city's largest provider of permanent supportive housing, that perhaps gave the greatest heft to the proceedings; even if every note was not pitch-perfect, their humanity was hard to ignore.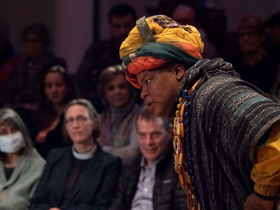 Long before "Saturday Night Live" (SNL) turned "Live from New York" into a popular catch-phrase, AMAHL AND THE NIGHT VISITORS made its debut in a live broadcast on NBC Television on Christmas Eve, 1951, led by the famed conductor Thomas Schippers. It was the first production of the network's "NBC Opera Theatre," which gave 43 performances between 1951 and 1964 when it was disbanded--from its home in Studio 8H in Rockefeller Center, coincidentally also the home of SNL.
Not in their wildest dreams could the group's founders--Music Director Peter Herman Adler and administrator Samuel Chotzinoff (long associated with Toscanini)--have foreseen the production of the piece that was presented at Holy Apostles...with the audience following its subtitles on a smartphone app.
Then again, perhaps the composer/librettist might have been on that wavelength. In a statement by Menotti[1], he said, "I am often asked how I went about writing an opera for television, and what are the specific problems that I had to face in planning a work for such a medium. I must confess that in writing AMAHL AND THE NIGHT VISITORS, I hardly thought of television at all. As a matter of fact, all my operas are originally conceived for an ideal stage which has no equivalent in reality..."