BWW Review: Juilliard's HIPPOLYTE ET ARICIE Shows How Modern French Opera Began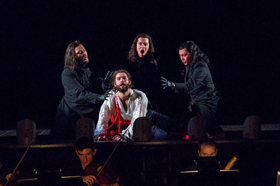 The Juilliard School pulled out all the stops for Stephen Wadsworth's production of HIPPOLYTE ET ARICIE (1733) by Jean-Philippe Rameau this week, an opera unlikely to be seen again in these parts any time soon. Judging by the production values, gorgeously designed by Charlie Corcoran with lighting by David Lander, and marvelous costumes by Sarah Cubbage with wigs by Tom Watson, they considered this a major occasion for a composer we don't see very much of in New
York (though City Opera did Rameau's one-act PIGMALION only a few weeks ago).
Of course, Juilliard has the resources to do it right, with the luxury of calling upon professional level performers from their Historical Performance, Marcus Institute for Vocal Arts and Dance departments (choreography by Zack Winokur), plus the Juilliard415 early music ensemble under Stephen Stubbs. As directed by Wadsworth--librettist of Bernstein's A QUIET PLACE, director of operas at major companies and translator of two of Beaumarchais' Figaro plays, aside from heading the opera diploma program at Juilliard--the performance I saw of this 18th century landmark opera was exceptional.
Wadsworth wasn't shy about taking hold of a work like HIPPOLYTE, the first opera of a composer known for his books on music theory and harpsichord music and a renowned librettist, Pellegrin, and throttling it within an inch of its life. This meant, perhaps, offending some purists who might prefer that he didn't jettison the work's original prologue in favor of a spoken introduction, with no music. (Not being familiar with the original--as, indeed, most operagoers are not--I wasn't offended in the least.)
Luckily, he had the able bass Alex Rosen and mezzo Kelsey Lauritano to deliver this addition, before the opera began in earnest, where Rosen was a memorable, deep-voiced Thesee (Theseus, Hippolyte's father, the mythical Greek king and son of Neptune) and Lauritano a vibrant Diane (Diana, goddess of the moon, the hunt and chastity). These young performers, in some ways, were probably better equipped than the originators of these roles, bringing a daring to the changes that Rameau was trying to bring to French opera, not simply recounting a myth but integrating psychological insights and calling on multiple talents in a single character.
I won't try to distill the story's many complications in brief (see the Juilliard site for that), but endless entanglements arise, not only for the lovers, but for Theseus, who gets in major trouble trying to help his good friend, Piritous, get out of Hell and his wife, Queen Phedre (the dramatic, full-voiced mezzo, Natalia Kutateladze), who was the central character of the source material, Racine's drama, PHEDRE, but here "simply" falls for her stepson Hippolyte and lives to regret it, raging against the machine before killing herself.
As usual, Juilliard has been able to find young singers who are shockingly good in their roles. Here are a few notables: Soprano Onadek Winan was a wonderfully sung Aricie, pure of heart and voice; soprano Meghan Kasanders, a smartly considered Oenone (confidente of Phedre); tenor Chance Jonas-O'Toole, a lithely sung Mercury; soprano Shaked Bar was self-assured and lively as La Grande Prétresse; and baritone Hubert Zapior, who brought warmth and heart to the role of Neptune, making a big impression with his entrance at the end of the opera. And a special call out to Jessica Niles, as "une matelote" (a female sailor) who not only sang impressively but danced charmingly as well.
The trio of Fates play a key role in the opera--in particular their aria, "Quelle soudaine horreur," with its shifting harmonies, warning Theseus of troubles ahead--and tenor Charles Sy, baritone Xiaomeng Zhang (in a baritenor role) and bass Andrew Munn knocked it out of the park. As the imposing duo from Hell--Pluto and Tisiphone--bass William Guanbo Su and tenor Joshua Blue, respectively, brought chills to the stage. Tenor Kyle Stegall was a thoughtful, loving Hippolyte, even though the role was written for an haute-contre--a very high tenor common in French baroque and other operas before the late 18th century and difficult to cast today.
Rameau's orchestrations and harmonies pose real challenges for even broadly experienced musicians and the daring Juilliard415 group did some remarkable work under Maestro Stubbs. Composer Rameau came along at a time when the music of Lully (and his librettist Quinault) was considered the height of perfection and shook things up, with (according to the director) "arias, dances, choruses and instrumental sections" that were integrated in a whole new way.
The result is that, thanks to today's fearless singers, says Wadsworth in the program, "we are able to present [Rameau's] original intention, which was denied to his audience." Those of us in attendance knew we were hearing, and watching, something special.