Review: Call It Mishmash or MASS, Mostly Mozart Celebrates Bernstein Centennial
This week, Lincoln Center's Mostly Mozart Festival added its two-cents to the Leonard Bernstein centennial festivities, with the first of two performances of Bernstein's MASS: A THEATRE PIECE FOR SINGERS, PLAYS AND DANCERS, in an environmental production by Elkhanah Pulitzer that debuted at the LA Philharmonic in February.
While the rapt audience appeared to be having a swell time, I was less than engaged, and not because of the religious aspects. Whether Bernstein was trying to prove he could do anything--eg, like being a Jew and composing a Mass-related piece--or simply writing a tribute to the Catholic John F. Kennedy, for me it came across as something that was more serious than HAIR and similar musicals of its period but less entertaining.
Nobody's ever pretended that the MASS is Bernstein's masterpiece, though he probably hoped so when it was written a half-century ago. Although he composed it for a significant occasion--the opening of the Kennedy Center in Washington, DC, in 1971--that doesn't mean that the knives weren't out to gut him at its premiere.
Richard Nixon didn't show up (ostensibly to keep the focus on Jackie and the rest of the Kennedy clan) and the FBI's J. Edgar Hoover would have been happy to lead Bernstein out in handcuffs for his left-ish political leanings. (Today, of course, we have a president who probably doesn't even know who Bernstein was.) Unfortunately, the composer did much of the damage himself, trying to be traditional and funky simultaneously: part circus, part musical comedy, part religious rite.
It's no secret that Bernstein longed for the respectability that "serious" music would endow on him--carping critics kept asking him to make up his mind about whether he was a Broadway baby, a conductor or a "serious" musician--but Broadway may have provided his most fruitful outlet. WONDERFUL TOWN, CANDIDE (his music the only enjoyable part of the original), ON THE TOWN (and its ballet predecessor FANCY FREE) and, of course, WEST SIDE STORY, helped make his name--and the echoes of those works can be heard throughout MASS, adding much theatrical flair. (Unlike other composers, Bernstein knew to steal from the best: himself.) Though some of the text is in Latin, Bernstein wrote much of the rest, with the assistance of composer-lyricist Stephen Schwartz and an addition by Paul Simon.
The production from Pulitzer--with Seth Reiser's scenic and lighting design, Laurel Jenkins' choreography, Christine Crook's costumes, Mark Grey's sound and Adam Larsen's projections--made it feel like a "love-in," though I'm not sure that she wandered far from the composer's intentions. In general, it seemed very dated in its presentation, even when Bernstein's music transcended that feeling. Yes, some of the music is gorgeous--and his melding of gospel, jazz, Broadway and religious styles made for a frequently lively hour and 50 minutes--but this was another of those occasions when I thought a piece would be better served as a recording rather than a staged performance.
Despite the size of the piece, there are really only two characters of note.
The Celebrant, baritone Nmon Ford, enters down the aisle from the audience as if he wandered in from a hootenanny. He strummed a guitar and sang, "Sing God a simple song....Make it up as you go along," before taking on his religious garb and becoming leader of the congregants around him in the Mass. (The character would dress down again later in the piece.) Ford used his velvety voice to move back and forth easily in meeting the shifting demands of the work.
The other major role is a boy soprano, sung purely and wisely by Tenzin Gund-Morrow, who comes from one of the participating choruses, the excellent Young People's Chorus of New York City under Elizabeth Nunez. The Concert Chorale of New York under James Bagwell also turned in a fine job in filling the hall with Bernstein's eclectic sound.
The Mostly Mozart Festival Orchestra under its Music Director, Louis Langree, sounded fine, adding much to the proceedings.
Richard Sasanow has been BroadwayWorld.com's Opera Editor for many years, with interests covering contemporary works, standard repertoire and true rarities from every era. He is an intervi... (read more about this author)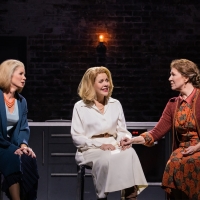 Review: THE HOURS Goes by in Minutes as Met Gives Birth to Fascinating Opera by Puts and Pierce

November 25, 2022

The Met gave birth to a fascinating new opera on Tuesday and it wasn't a moment too soon to unleash composer Kevin Puts's THE HOURS on an audience that sometimes seems doomed to die inundated by too many AIDAs, BOHEMEs and CARMENs. The world premiere production of THE HOURS by Puts and Greg Pierce was directed by Phelim McDermott. The cast was a starry one, led by soprano Renee Fleming, soprano Kelli O'Hara and mezzo Joyce DiDonato.
---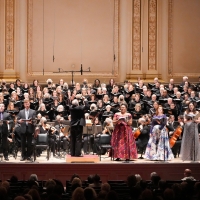 Review: Oratorio Society Debuts Stunning NATION OF OTHERS by Moravec and Campbell at Carnegie Hall

November 18, 2022

The Oratorio Society of New York (OSNY), under Kent Tritle, gave its second stirring world premiere by Paul Moravec and Mark Campbell with Tuesday's outstanding performance of A NATION OF OTHERS.
---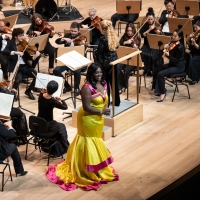 Review: An Old-Fashioned Sing-Off Celebrates ANGEL BLUE at Geffen Hall's 2022 Richard Tucker Gala

November 15, 2022

Award-winner Angel Blue started off the proceedings at the Richard Tucker Gala (after Barry Tucker's usual introduction/ode to his father, the great tenor) with a bang: Puccini's justly famous aria "Vissi d'arte" from TOSCA. For those of us who've only heard her as Bess in Gershwin's PORGY & BESS at the Met, it was a revelation to hear her lush, velvety voice raise the rafters on the hall, with no warm up.
---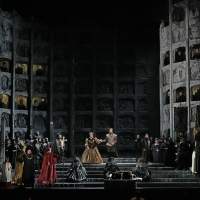 Review: DON CARLO Returns to the Met, This Time in Italian

November 13, 2022

Last season, the company gave its first presentation of the French version (that's the one called DON CARLOS, with a final S to his first name), in the five-act version that lasted almost 5 hours. This year, we're back to Italian, under Carlo Rizzi's firm baton, in one of a number of versions (this one running about 4 hours) of DON CARLO, which uses shortcuts to tell the story elements deleted with the excision of the first act (usually referred to as "the Fontainebleau scene").
---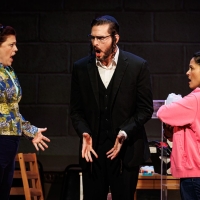 Review: New York Becomes HOMETOWN to Kaminsky-Reed Opera About ICE Raid on Slaughterhouse in Iowa

November 10, 2022

HOMETOWN TO THE WORLD--the 70-minute contemporary chamber opera by Laura Kaminsky and Kimberly Reed about the aftermath of a 2008 raid by the US Immigration and Customs Enforcement (ICE) on a slaughterhouse in Postville, Iowa--is about as far from the Midwest of Meredith Willson's THE MUSIC MAN imaginable.
---