BWW News: Hannigan Shows She's 'Got Rhythm' in Grammy Win for CRAZY GIRL CRAZY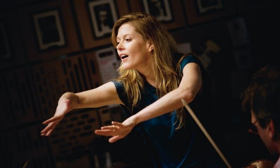 Canadian soprano Barbara Hannigan took the Grammy's Best Classical Solo Vocal Album Sunday night with her mash-up of George Gershwin, Alban Berg and Luciano Berio, "CRAZY GIRL CRAZY"--not only singing but conducting the Ludwig Orchestra (on the Alpha label).
In the Best Opera Recording category, Berg showed up again--this time with his masterful WOZZECK, toplined by soprano Anne Schwanewilms and baritone Roman Trekel, with the Houston Symphony under conductor Hans Graf. (Hans Graf and Brad Sayles, producers; Houston Symphony; Chorus of Students and Alumni, Shepherd School of Music, Rice University and Houston Grand Opera Children's Chorus.)
Conductor Manfred Honeck (see my interview with him last May) and his Pittsburgh Symphony took a pair of awards: Best Orchestral Performance for their "SHOSTAKOVICH: SYMPHONY NO. 5; BARBER: ADAGIO" and, for the same album, Best Engineered Classical Album, Mark Donahue, engineer. The Shostakovich is not technically brand-new but hasn't been released before. (Recorded live in the orchestra's home, Heinz Hall for the Performing Arts in Pittsburgh, Reference Recordings).
The Best Classical Instrument Solo prize went to pianist Daniil Trifonov, for his album of Liszt's complete Transcendental Etudes, simply called TRANSCENDENTAL. (Deutsche Grammophon)
Composer Jennifer Higdon--who previously won a Grammy for her Percussion Concerto in 2009--was honored twice for her Viola Concerto: Best Contemporary Classical Composition (Roberto Díaz, viola; Giancarlo Guerrero, conductor; and the Nashville Symphony) and Best Classical Compendium for "Higdon: All Things Majestic, Viola Concerto & Oboe Concerto." Tim Handley, producer.
The award for Producer of the Year, Classical, went to record producer David Frost (not the journalist/interviewer), who has already nabbed 15 Grammys, including another Producer of the Year award in 2014.
Other classical recordings honored at this year's Grammys: Best Choral Performance: "Bryars: The Fifth Century" -- Donald Nally, conductor (PRISM Quartet and The Crossing) and Best Chamber Music/Small Ensemble Performance: "Death & the Maiden" -- Patricia Kopatchinskaja and the Saint Paul Chamber Orchestra.