Latest Articles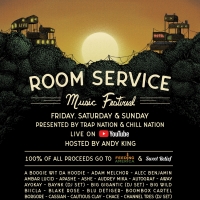 Andy King To Host Room Service Music Festival
by TV News Desk - April 22, 2020
Room Service Music Festival is bringing back the festival experience to quarantined music lovers around the globe this weekend (April 24-26), streaming exclusively on the official YouTube channels Trap Nation & Chill Nation.... (
more...
)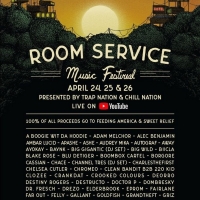 Yungblud, Channel Tres, & More Announced for Room Service Music Festival
by TV News Desk - April 15, 2020
With cancellations of large scale entertainment events due to COVID-19, digital music festival Room Service is bringing back the festival experience to quarantined music lovers around the globe on April 24-26.... (
more...
)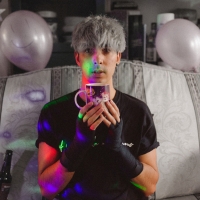 Cameron Sanderson Shares 'Grey'
by BWW News Desk - April 09, 2020
London based Cameron Sanderson released his new single, 'Grey' on 9 April via Broken Thought Records.... (
more...
)

American Black Film Festival Announces the Emerging Directors and Music in Motion Showcase Selections
by TV News Desk - May 21, 2019
The Emerging Directors and Music in Motion Showcase selections have been announced for the 23rdAnnual American Black Film Festival (ABFF), taking place June 12-16 in Miami.  These programs were launched with the aim of increasing diverse representation in the entertainment industry and are set to sc... (
more...
)

Governors Ball Announces 2019 Performance Schedule
by TV News Desk - April 24, 2019
Founders Entertainment is excited to share the full performance schedule for the 2019 Governors Ball Music Festival, available now on GovBall.com as well as the Gov Ball App (powered by Bud Light). The release of the 2019 schedule follows recent announcements detailing this year's mouth watering foo... (
more...
)

Carlie Hanson Releases Track for Newest Single 'Numb' Today
by BWW News Desk - February 01, 2019
Rising pop star Carlie Hanson released the official music video for her single 'Numb' today. Filmed in Big Bear, CA and directed by Nicholas Jandora, the video matches the song's dark tone with chilly imagery and inspiration from one of the most bone-crushing scenes in cinema history.... (
more...
)

Recording Academy Announces Industry-Wide Initiative To Expand Opportunities For Female Producers and Engineers
by TV News Desk - February 01, 2019
Today, the Recording Academy's Task Force on Diversity and Inclusion announced an unprecedented new initiative that aims to expand opportunities for female music producers and engineers. The Producer & Engineer Inclusion Initiative is the inaugural action of a larger strategy to address gender inequ... (
more...
)

Emma Sameth, Jeremy Zucker and WOLFE Team Up On SPIN WITH YOU
by BWW News Desk - December 19, 2018
Emma Sameth has teamed up with singer/songwriter producer Jeremy Zucker experimental electronic producer WOLFE for their brand new collaborative single "Spin With You" – available now on all DSPs via Parametric Records. The release, which fuses elements of her electronic background with smooth, soot... (
more...
)