Young the Giant Announce 2019 Tour Dates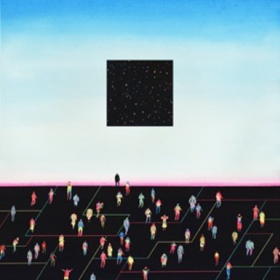 Today, Young the Giant announce dates for their 2019 Mirror Master Tour in support of the new full-length album of the same name, released earlier this month via Elektra Records. Mirror Master includes recently released tracks "Simplify" and "Call Me Back", along with the musing single "Superposition". In addition to the newly announced show dates, the band is currently touring this fall across the US with LIGHTS as main support.
Tickets for the Mirror Master Tour will go on sale to the public Friday, October 26 at 10am local time. For more information and tickets to all upcoming shows, visit youngthegiant.com.
Recently, Young the Giant delivered "soaring" (Billboard) performances of "Superposition" and "Simplify" on Jimmy Kimmel Live!, and also appeared on The Late Show with Stephen Colbert this summer with a powerful rendition of "Simplify".
Describing the overall thesis for Mirror Master, vocalist Sameer Gadhia explains, "Within one single day, we're all so many different people. Especially with the use of social media, we're not just living in the now-we're living on several different timelines simultaneously. A lot of the album came from thinking about how we have all these separations within ourselves that allow us to go about our day. At a time when everyone wants to put each other in a box-culturally, socially, musically-we wanted to show that there are a multitude of reflections inside everything. We don't have to be a certain thing; we can contradict ourselves and show all these different sides of who we are."
Since the band's 2010 inception, Young the Giant has made a name for itself in rock as the 'thinking man's band,' winning over fans, radio, and press with their incendiary live shows, strong musicianship, and poignant lyrics. Following 2016's critically-acclaimed Home of the Strange, Mirror Master promises to continue ascending into consciousness, though this time with a heavy focus on personal self-awareness and growth.
Mirror Master finds Young the Giant in a transitional period for America, not only as a culture (for their former album Home of the Strange, NPR's Alisa Chang had an in-depth conversation with Gadhia about the 'modern immigration story', available to read here), but also technologically. The band members have become increasingly aware of society's attachment to social media, cellphones, and elevated, sometimes fabricated, self-portrayals on the internet.
With the new album, the band forgoes the technological obsession and, in an almost meditative way, examines one's relationship with the "self" to instead express a genuine identity.
"Something we want to get across with the album is the idea of taking authorship of your life," continues Gadhia. "Even though it may all be an illusion, there's solace in that illusion. Because if you have control of anything at all, it's your own reflection, how you treat people and how you walk through this life. So if you're an Indian kid and your parents want you to be a doctor or lawyer or engineer, and you just want to make music with your friends, then do that. Don't let people feed you what they want you to think. Do what makes you happy, and realize and that all is good and all is horrible, and everything else in between."
Young the Giant is composed of Gadhia (vocals), Jacob Tilley (guitar), Eric Cannata (guitar/vocals), Payam Doostzadeh (bass), and Francois Comtois (drums/vocals).
Mirror Master is available to stream or purchase at https://lnk.to/mirrormaster.
TOUR DATES:
2018
THU October 25 - Grand Rapids, MI - 20 Monroe Live *
FRI October 26 - Indianapolis, IN - Egyptian Room *
SAT October 27 - Atlanta, GA - The Coca Cola Roxy *
SUN October 28 - Myrtle Beach, SC - House of Blues *
TUE October 30 - Nashville, TN - Ryman *
WED October 31 - Louisville, KY - The Palace *
FRI November 2 - Charlotte, NC - The Fillmore *
SAT November 3 - Raleigh, NC - The Ritz *
SUN November 4 - Richmond, VA - The National *
TUE November 6 - Cleveland, OH - House of Blues *
THU November 8 - Toronto, ON - Rebel *
FRI November 9 - Montreal, QC - MTELUS
SAT November 10 - Portland, ME - State Theatre *
SUN November 11 - Providence, RI - The Strand *
TUE November 13 - Brooklyn, NY - Brooklyn Steel *
WED November 14 - Brooklyn, NY - Brooklyn Steel *
THU November 15 - Sayreville, NJ - Starland Ballroom *
FRI November 16 - Washington, DC - Anthem *
TUE November 27 - Milwaukee, WI - Eagles Ballroom, The Rave / Eagles Club
WED November 28 - St. Louis, MO - KPNT HOHO
FRI November 30 - Orlando, FL - Orlando Amphitheater at the Central FL Fairgrounds
SAT December 1 - Fort Lauderdale, FL - Riptide Music Festival
SUN December 2 - Tampa, FL - 97X Next Big Thing 2018
SAT December 8 - San Jose, CA - ALT 105.3's Not So Silent Night, SAP Center
TUE December 11 - Seattle, WA - Deck the Hall Ball, WaMu Theater
THU December 13 - Portland, OR - December to Remember
2019 (newly added Mirror Master Tour dates w. Sure Sure as support)
TUE January 29 - Burlington, VT - Flynn Theatre +
WED January 30 - Albany, NY - Palace Theatre +
THU January 31 - Uncasville, CT - Mohegan Sun Arena +
SUN February 2 - Norfolk, VA - The NorVa +
MON February 4 - North Charleston, SC - North Charleston Performing Arts Center +
WED February 6 - Knoxville, TN - Tennessee Theatre +
THU February 7 - Athens, GA - Georgia Theatre +
FRI February 8 - Athens, GA - Georgia Theatre +
SAT February 9 - Asheville, NC - The Orange Peel +
TUE February 12 - Chattanooga, TN - The Signal +
THU February 14 - Oxford, MS - The Lyric Oxford +
FRI February 15 - Tulsa, OK - Cain's Ballroom +
SAT February 16 - Des Moines, IA - Hoyt Sherman Place +
SUN February 17 - Columbia, MO - The Blue Note +
TUE February 19 - Urbana, IL - Canopy Club +
WED February 20 - Urbana, IL - Canopy Club +
THU February 21 - West Lafayette, IN - Purdue University, Elliot Hall of Music +
SAT February 23 - Madison, WI - The Sylvee +
SUN February 24 - St. Paul, MN - Palace Theatre +
TUE February 26 - Winnipeg, MB - Burton Cummings Theatre +
WED February 27 - Saskatoon, SK - Coors Event Centre +
FRI March 1 - Edmonton, Alberta - Northern Alberta Jubilee Auditorium +
SAT March 2 - Calgary, AB - MacEwan Hall +
MON March 4 - Vancouver, BC - Orpheum +
WED March 6 - Missoula, MT - The Wilma +
THU March 7 - Boise, ID - Knitting Factory +
FRI March 8 - Spokane, WA - Knitting Factory +
SAT March 9 - Eugene, OR - McDonald Theater +
* w. LIGHTS as support
+ Sure Sure as support
For tickets visit youngthegiant.com/tour.
STREAM/BUY MIRROR MASTER:
https://lnk.to/mirrormaster
WATCH RECENT PERFORMANCES ON JIMMY KIMMEL LIVE!:
"Superposition": https://youtu.be/Fjw2n8-jpL0
"Simplify": https://youtu.be/X8yCT19yRJM
Related Articles View More Music

Stories
More Hot Stories For You