UMC to Release Rory Gallagher Compilation Album 'Blues'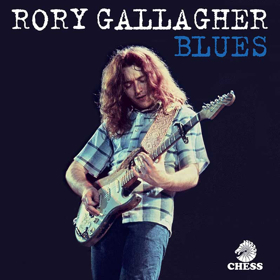 In what would have been the 50th year of Rory Gallagher's recording career, UMC are pleased to announce the release of 'BLUES' on Friday 31st May. From the vaults of the Gallagher estate's tape archive comes this collection of rare and unreleased recordings of Rory playing his favourite blues material. Ranging from never heard before tracks to special guest sessions with legendary blues artists (Muddy Waters / Albert King) and lost radio sessions, this album uncovers Rory's love of the blues throughout his solo career from 1971 right through to 1994.
Formats include a 15 track 1CD / 2LP version, limited edition blue vinyl 2LP and a deluxe 36 track 3CD version showcasing Rory's virtuoso performances of electric, acoustic and live blues. The Deluxe comprises 90% unreleased material and features performances with musical legends such as Muddy Waters, Albert King, Jack Bruce, Lonnie Doneganand Chris Barber. The Deluxe Edition also comes with an extensive booklet comprising previously unseen pictures if Rory plus a new essay by award winning Blues / Rock writer Jas Obrecht.
If ever there was a "musician's musician" then that accolade surely belongs to Rory Gallagher. Renowned for his blistering live performances and highly respected for his dedication to his craft, he died in 1995, aged just 47, yet his reputation has continued to flourish in the years since. Indeed, some of rock's most seminal figures, from Jimi Hendrix to Eric Clapton, Queen's Brian May to The Smiths' Johnny Marr, have cited him as an influence. Clapton credited Rory with "getting me back into the blues", while May has unequivocally stated: "I owe Rory Gallagher my sound."
From his first album with Taste through his final solo record, Rory Gallagher remained true to his own musical vision. Like the American bluesmen he admired, he created an instantly identifiable sound. His raw, unfettered vocals perfectly suited the blues-worthy themes he sang of, and his guitar style was a force unto itself. Like B.B. King and Buddy Guy, he excelled at playing storytelling solos on electric guitar. Like Muddy Waters, he was a skilled slider. And like Blind Boy Fuller, Lead Belly, and Big Bill Broonzy, he displayed amazing dexterity on the acoustic guitar. But unlike many of his peers in the U.K., especially during the 1960s and 1970s, Gallagher did not specialize in note-perfect copies of other people's songs. As he explained to an interviewer in 1978, "I never started out to be a strict recreator of the blues or even a modern young bluesman. I wanted to be me."