The Weight Band Debuts Original Studio LP 'World Gone Mad'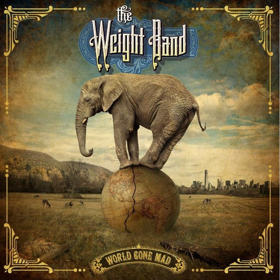 On February 23, Woodstock-based artists The Weight Band will release their first full-length studio album World Gone Mad featuring original tracks, guest vocals and slide guitar from Jackie Greene on a cover of a Jerry Garcia-Robert Hunter song, and writing contributions from the late Levon Helm on previously unreleased songs.
"Common Man" is the first single off of the forthcoming full length album, and it will be available on Friday, January 26 on all digital streaming platforms. World Gone Mad arrives several months after
The Weight
Band was featured in the nationally broadcast PBS special
Infinity
Hall Live, where they performed classic Band songs as well as original tracks. The Weight Band originated inside the famed Woodstock, NY barn of Levon Helm, when
Jim Weider
(guitar, mandolin and vocals) and Randy Ciarlante (drums and vocals)-both former members of The Band-were performing "Songs of The Band" with Garth Hudson,
Jimmy Vivino
and Byron Isaacs, now a bassist and vocalist with The Lumineers. Weider, Ciarlante and Isaacs began to carry on the tradition of performing songs from The Band, inviting
Brian Mitchell
(keyboards and vocals) and Marty Grebb (keyboards, saxophone and vocals) to complete their sound.
The Weight
Band later added Albert Rogers (bass and vocals) and Michael Bram (drums and vocals) to complete their current lineup, alongside Weider, Mitchell and Grebb. The Weight Band recorded World Gone Mad in
Clubhouse
Studio in Rhinebeck, NY. A rustic American musical tradition can be heard throughout the album's songs, whose lyrics reflect stories of love, humor, and personal journeys. World Gone Mad shines bright during moments like the title track, a powerful glance at the current national mood. The band's growing concern over the divisiveness of today's political climate and the hardship of life in America is revealed on "Common Man" and "Fire in the Hole." The album creates a new soundtrack for a generation of music fans raised on songs from American music titans such as The Band and the Dead. As a complete project, World Gone Mad salutes a sometimes-overlooked, immensely rich musical style best described as the "Woodstock sound." Over the next several weeks, a series of videos on
The Weight
Band, and the new album, will be released. World Gone Mad also honors the great Levon Helm, who is credited as co-writing two never released songs on the album, "You're Never Too Old (To Rock N Roll)" and "Common Man." Weider replaced Robbie Robertson as a member of The Band in 1985, reuniting them back to a five-piece group. Weider toured internationally with Helm, as well as with
Garth Hudson
and Rick Danko, for fifteen years. He and
Brian Mitchell
are also current members of Levon Helm's
Midnight
Ramble Band. Marty Grebb, a former member of the Buckinghams who has performed with Leon Russell,
Bonnie Raitt
, and countless others, contributed to both The Band's Jericho and Jubilation albums. World Gone Mad also features former Band and Weight Band member Randy Ciarlante on two tracks, "I
Wish You Were Here
Tonight" (drums) and "Big Legged Sadie" (drums and background vocals.)The album is capped off by a live version of The Band song, "Remedy," co-written by
Jim Weider
and originally included on The Band album Jericho. World Gone Mad will be available as a CD and digitally- including on SoundCloud-in February 2018. The album cover was designed by John Halpern (The Eagles, OutKast) with graphics by Larry Freemantle (
Kid Rock
.)
UPCOMING TOUR DATES:
02/17 @ Levon Helm Studios | Woodstock NY *CD release ramble
3/9 @ Sportsmen's Tavern | Buffalo, NY
3/11 @ Center for the Arts of Homer | Homer, NY
4/1 @ City Winery | Atlanta, GA
4/5 @ King Center for the Performing Arts | Melbourne, FL
4/7 @ Center for Performing Arts | Bonita Springs, FL
4/29 @ Belly Up Tavern | Solana Beach, CA
6 /24 @ Rocks, Ribs & Ridges Festival | Augusta, NJ
8/20 @ Camp Cripple Creek at Full Moon Resort | Big Indian, NY
MORE INFO:
Related Articles View More Music

Stories
More Hot Stories For You