The Mayfair Hotel Announces Exhibit By Rock Poster God Jim Evans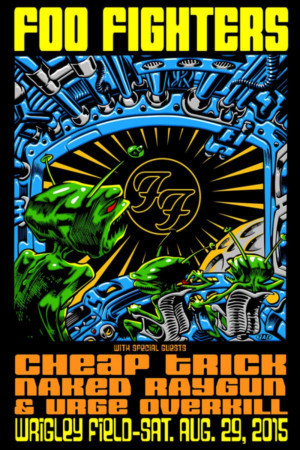 Once referred to as the "Rock Poster God" artist Jim Evans will be exhibiting rare and early prints from his personal collection at the Mayfair Hotel (1256 W 7th St) in Los Angeles, CA located inside their Regime Contemporary Art Gallery starting with the grand opening March 29th - 6 to 11 pm and running through March 30th - noon through to 6 pm. Regime Contemporary Gallery is curated by LA Graffiti legend Kelly "RISK" Gravel and will be home to some iconic rock posters from Jim Evans, including show posters for Nine Inch Nails, Ramones, Smashing Pumpkins and Pixies.
Artist Jim Evans aka TAZ, began his career in the San Francisco underground rock scene. His art has appeared in comics, on album covers, rock and film posters, and has been featured in numerous books. He has expanded his work through fine art, limited editions, and gallery shows, and most recently street art and murals. Evans is the founder of the TAZ collective, which has done posters for groups like the Foo Fighters, U2, Oasis, Anderson Paak, Green Day, Pearl Jam, The Beastie Boys, Ramones, Rage Against The Machine, Wu Tang Clan, Metallica, Nine Inch Nails, and Blink-182. TAZ has also done a number of high-profile album jackets for The Beastie Boys, Beck, Aerosmith, House of Pain, and Neil Young. Evans / TAZ work has been exhibited in galleries worldwide.
Featured for sale at the exhibit are rare prints produced with master LA print maker Richard Duardo dating back to the 1980's as well as some of his early rock concert posters for Nine Inch Nails, Beastie Boys and Green Day. Highlighting the exhibit are the original artist proofs for early "Lallapalooza" Concerts.
ABOUT THE MAYFAIR HOTEL:
The Mayfair Hotel officially re-launched in late 2018 after a multi-million-dollar renovation with all-new world-class accommodations that have been carefully paired with a handpicked collection of art, music, and entertainment. The Mayfair Hotel was artistically curated by Kelly "RISK" Graval along with Kevin Zinger, Ivory Daniel of Regime 72 and Brian Greif of 2:32 AM Projects who hand-picked all the artists to design the artwork that is showcased on each of the hotel floors. Regime 72 also helped put together the hotel's creative programming, which recalls the glamorous heydays of the 1920's, while also offering visitors an intimate view into the DNA of the city of Los Angeles. All the activations simultaneously highlight the history of The Mayfair and its newly minted social venues, including the M Bar, Library Bar, the Garden Gallery, and the Ballroom.
The Mayfair Hotel is a celebration and rejuvenation of the best of Los Angeles while creating a space for everyone in the Arts community.
Related Articles View More Music

Stories
More Hot Stories For You