The Diplomats Of Solid Sound Return with A HIGHER PLACE On Pravda Records 6/21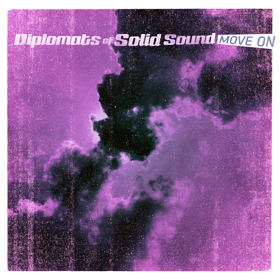 Pravda Records proudly presents the sixth full-length by Iowa City ambassadors of groove The Diplomats of Solid Sound, who are inspired by the sounds of the best 60's-style soul. "A Higher Place" is chock full of irresistible, funky dance floor bangers, reconfirming their standing in the contemporary funk and neo-soul scene. It hits stores on June 21st on CD and vinyl; the first single, for the title track, hits on April 12th. Eighteen years after their debut, "Instrumental Action Soul", the Diplomats have become Spotify stars, with an excess of 20 million streams of their music to date. Yep, 20 million! Their tunes have also fueled a variety of respected film, TV and commercial sound tracks, including NBC's New Amsterdam, ABC's The Rookies, Weeds, Entourage, Madea's Big Happy Family, and many others. At a heavy 8 members, the band's songs are augmented by scorching sax lines and punchy keyboards, as well as the vocal talents of 3 lady vocalists.
Listen to "Move On" by the Diplomats of Solid Sound here.
Originally from Iowa City IA, the band has members residing in Chicago IL, Austin TX, and various parts of Iowa. They converge on Iowa City annually to write, record, and ponder another 20 years of great records and rare public performances. They have a dedicated following in North America and Europe and will do select shows, including a midwestern run in late June to promote the album release. The Diplomats of Solid Sound have revived the offbeat sounds made popular by bands like Booker T. and the MG's, doing previous generations of soul practitioners proud.
THE BAND
Vocals: Sarah Cram, Katherine Ruestow and Abbie Sawyer
Organ, Piano: Nate "Count" Basinger
Drums, Percussion: Forrest Heusinkveld
Saxophone: Eddie MacKinley
Guitar: Douglas Roberson
Bass: Ben Soltau
TOUR DATES
Thurs June 20: Des Moines Botanical Gardens, 5-730pm
Fri June 21: Raccoon Motel in Davenport, doors at 6pm?? (time TBA)
Sat June 22: Iowa City Block Party, downtown Iowa City, 60 minute set, 715-815pm?? (precise time TBA)
Sun June 23: Old Neighborhood Pub in Cedar Rapids, 5-9pm
Wed June 26: Space in Evanston, doors @ 7pm