Sultans of String Get Set For Their Christmas Caravan To Ride On Tour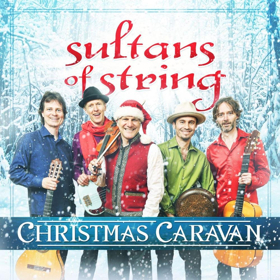 Sultans of String get set to take their genre-bending mix of songs to venues across Canada and US. Known for being culturally inclusive the bandcombines elements of Spanish flamenco, Arabic folk, Cuban rhythms, and French Manouche Gypsy-jazz into their eclectic sound. See full schedule below for shows for the whole family.
The Sultans of String are: Chris McKhool · Chendy Leon, Jr. · Eddie Paton · Drew Birston · Kevin Laliberté
"Sultans of String go deeper, bringing us tunes for Christmas, Kwanzaa, Hanukkah and just general wintertime chilling" - Exclaim!
"Sultans of String keeps imaginative imperatives in overdrive for the entirety of Christmas Caravan, a generous pitch for global unity through the music of Christmas, Kwanzaa and Hanukkah. These five musicians have jubilantly recharged the classics with arrangements that demand attention" - Downbeat
Sultans of String are celebrating their 10th anniversary touring together. See them at the following venues across Canada and the US-
Oct 14 - Bluffton, OH - Bluffton Townhall Concert Series
Oct 18 - Terrebonne, QC Chapelle du Collège Saint-Sacrement / Trio
Oct 19 - Gorham, NH - Medallion Opera House
Oct 21 - L'Assomption, QC - Theatre Hector-Charland / Quartet
Nov 1 - El Dorado, CA - El Dorado County Community Concerts
Nov 2 - Auburn, CA - Auburn Placer Performing Arts Center
(10am & 1pm for young audiences)
Nov 3 - Santa Monica, CA - McCabe's
Listen here:
More Hot Stories For You