Steve Aoki Teams Up With Nicky Romero and Kiiara for New Single 'Be Somebody'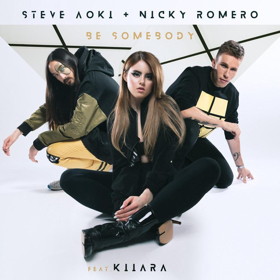 2x Grammy-nominated DJ and Producer Steve Aoki teams up with Multi-Platinum DJ and producer Nicky Romero and certified multi-platinum pop singer Kiiara to release his latest powerhouse single, "Be Somebody." Fresh off of his Teen Choice Awards win in the Choice Electronic/Dance Song category for "All Night" with Lauren Jauregui, this new single leads up to Steve Aoki's highly anticipated album Neon Future III, which will be released this Fall.
"Be Somebody" is a catchy, uptempo anthem of independence that follows the recent release of Aoki's pop record for the insecure "Pretender" featuring Lil Yachty and AJR that had its premiere performance on Good Morning America. "Be Somebody" opens with a smooth melody met by self-empowering lyrics lead by Kiiara's delicate but assertive vocals. At the bridge, the dynamic DJ duo, Steve Aoki and Nicky Romero, deliver an energetic beat in perfect tandem with Kiiara creating an addictive sound that will have you dancing while feeling empowered.
"Steve and I have been perfecting the sound on this record for over a year and I can't wait for the world to hear the result," Nicky Romero said. "We couldn't be more excited to have Kiiara grace us with her amazing voice!"
"I am honored to be a part of this record with Steve Aoki and Nicky Romero," said Kiiara. "I can't wait for everyone to hear it!"
"I love working with Nicky, both of us are so in sync," said Steve Aoki. "Be Somebody is a great example of us coming together as a creative force. Kiiara's vocals are phenomenal and she seamlessly portrays the message of the song."
About Steve Aoki:
Two-time Grammy-nominated producer/DJ Steve Aoki is one of today's most successful American cross-genre artists, collectively counting 1.5 billion music streams on Spotify, with an additional 2 billion music streams on YouTube. As the founder of the trendsetting record label, events/lifestyle company, and apparel line Dim Mak Records, which he founded in 1996, Aoki has helped launch the careers of global acts like The Chainsmokers, Bloc Party, The Bloody Beetroots, The Gossip, and The Kills, among many others. Dim Mak today counts more than 1,000 official releases from the biggest acts and most buzzing newcomers across EDM, indie rock, hip-hop, and beyond over its two-decades-plus discography. As a solo artist, Aoki boasts a lauded discography that includes: Wonderland (2012), his debut solo album, which garnered him his first-ever Grammy nomination for Best Dance/Electronica Album; the Neon Future series, which includes Neon Future I (2014, certified gold by the RIAA), Neon Future II (2015), Neon Future III (November 2018), and Neon Future IV (spring 2019); and the hip-hop centric Steve Aoki Presents Kolony (2017). His genre-defying collaborations also include original songs with A-listers like Lil Yachty and Migos ("Night Call" from Kolony, 2017); One Direction's Louis Tomlinson on the global hit "Just Hold On" (2016), which debuted at #1 in more than 40 countries and has since gone gold or platinum in 18 countries; and Daddy Yankee, Play-N-Skillz, and Elvis Crespo on the Spanish-language track "Azukita" (2018). In 2016, Aoki released the Netflix Originals documentary film I'll Sleep When I'm Dead, which earned him his second Grammy nomination for Best Music Film and globally released in more than 190 countries. Recognized by Forbes as one of the top 5 world's highest paid DJs and the world's hardest working DJ, Aoki is "one of the most in-demand entertainers in the world" (Billboard), counting more than 250 tour dates per year, with past performances at nearly every top festival around the world including Coachella, Ultra Music Festival, Lollapalooza, Fuji Rock Festival, Tomorrowland, Electric Daisy Carnival, and more. As a fashion designer/entrepreneur, Aoki has collaborated with major fashion and lifestyle brands like Converse and Bathing Ape and serves as a global ambassador for several international brands including ASICS and Diesel. In 2016, he also debuted his very own Dim Mak Collection streetwear line, which he later presented at New York Fashion Week in 2017. In 2012, Aoki founded THE AOKI FOUNDATION, which primarily supports organizations in the brain science and research areas and has donated more than $500,000 to date.
About Nicky Romero:
Nicky Romero has progressed from being a young, musical wunderkind to become one of the most influential artists of his time. As a DJ, producer and mogul whose label is at the forefront of modern electronic dance music, it goes without saying that Nicky is a force to be reckoned with. From the iconic hits "Toulouse" and "I Could Be the One" to his recent "PRTCL," Nicky's resume boasts an impressive and lengthy discography of originals, remixes, edits and co-productions, proving again and again his ability to evolve with the ever-changing landscape of electronic music. Perhaps even more telling of his razor-sharp prowess and visionary mindset is the success and impact of his label Protocol Recordings. From the stage to the studio and beyond, Nicky is leaving a lasting imprint on electronic music.
In the late 2000's, EDM was having its heyday, and Nicky Romero was at the forefront of the movement that would become one of the most significant cultural resurgences in decades. After releasing several singles early in his career, Nicky officially had his breakthrough moments with the viral anthem "Toulouse" and "I Could Be the One" (vs. Avicii), which to date has amassed over 185 million streams on Spotify alone. Nicky's meticulous skill as a producer led him to co-producing with legendary artists, both on Rihanna's hit "Right Now" and Britney Spears' "It Should Be Easy." These early successes served to pave the way for the founding of Nicky's own label, Protocol Recordings.
The future's looking brighter than ever for Nicky; he has upcoming collaborations with Dimitri Vegas & Like Mike, Afrojack, David Guetta, and Taio Cruz this year, as well as exciting new projects with Protocol Studios and their live showcases. It's a great time to be Nicky Romero, and it's only going to get better. Follow Nicky and Protocol Recordings on their socials to stay up to date!