Singer-Songwriter Shawn Colvin Premieres New Video'Minnie And Winnie'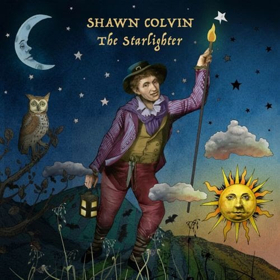 GRAMMY-winning singer-songwriter Shawn Colvin has released a new video for the song "Minnie And Winnie" from her forthcoming Amazon Original album The Starlighter. The video is currently streaming via Billboard. "It's kind of a throwback in time," says Colvin. "I wanted a lot of color and for it to be rich and beautiful. This will give children a chance to have a visual reference to the pictures they might be seeing in their head as they listen to the songs." The Starlighter is a collection of songs adapted from the children's music book "Lullabies and Night Songs," and will be released on February 23rd via Amazon Music.
Now, another 19 years later, she has revisited the book once again for her newest release, The Starlighter, Colvin's tenth solo effort overall. The album finds the GRAMMY-winning singer, songwriter and guitarist reaching into her past in the service of crafting a fresh and thoroughly unique offering-one that resonates with the warmth and tenderness of poignant familial experience and remembrance. The Starlighter's 14 tracks are a mix of traditional numbers and children's standards, all of them culled from the pages of Wilder and Sendak's transformative book.
The selections from "Lullabies and Night Songs" that Colvin chose for The Starlighter
The Starlighter track list:
01. The Starlighter
02. Raisins and Almonds
03. Go Tell Aunt Rhody
04. Minnie and Winnie
05. Sleep, Baby, Sleep
07. The Huntsman
08. The Cuckoo Is A Pretty Bird
09. Night
10. The Journey
11. Bobby Shaftoe
12. The Nut Tree
13. Hush, Little Baby
14. Cradle Song
03/01 - Bensalem, PA @ Xcite Center at Park Casino
03/02 - Torrington, CT @ Warner Theatre
03/03 - New London, CT @ Garde Arts Center
03/06 - Orono, ME @ Collins Center for the Arts
03/07 - Brownfield, ME @ Stone Mountain Arts Center
03/08 - Troy, NY @ Troy Savings Bank Music Hall
03/09 - Portsmouth, NH @ The Music Hall
03/10 - Burlington, VT @ Flynn Theatre
03/13 - Englewood, NJ @ Bergen PAC
03/14 - Geneva, NY @ Smith Opera House
03/15 - Buffalo, NY @ UB Center for the Arts
03/18 - Pittsburgh, PA @ The Carnegie Music Hall
03/20 - Cincinnati, OH @ Taft Theatre
03/22 - Akron, OH @ Goodyear Theatre
More Hot Stories For You