Saintseneca's New Album PILLAR OF NA Out Today Via ANTI- Records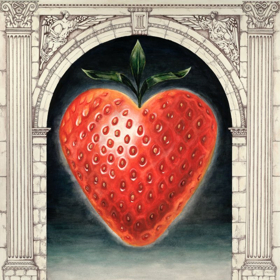 Saintseneca's Zac Little has been thinking a lot about memory. Not necessarily his memories, though they creep in often, too. Rather, he mulls over the idea of memory itself: its resilience, its haziness, how it slips away as we try to hang on, the way it resurfaces despite our best efforts to forget. LISTEN TO PILLAR OF NA VIA SPOTIFY
Memory is the common thread running throughout the Columbus folk-punk band's fourth album, Pillar of Na, arriving in August 31st via ANTI- Records. Following 2015's critically lauded Such Things, the new album's name is rooted in remembrance, referencing the Genesis story of Lot's wife who looks back at a burning Sodom after God instructs her not to. She looks back, and God turns her into a pillar of salt. "Na," meanwhile, is the chemical symbol for sodium. "Nah" is a passive refusal and the universal song word. It means nothing and stands for nothing. It is "as it is."
Like Lot's wife, Little cannot help but revisit where-and how-he grew up. Raised in church in southeastern Appalachian Ohio, he took up preaching when he was still a teenager, sometimes in small country settings and other times to congregations of thousands. But these days he's more interested in listening. And questioning.
Musically, Pillar of Na is Saintseneca's most ambitious album to date, with Little aiming to incorporate genre elements he'd rarely heard in folk. "I wanted to use the idiom of folk-rock, or whatever you want to call it, and to try to do something that had never been done before," Little explains. "To reach way back, echoing ancient folk melodies, tie that into punk rock, and then push it into the future. I told Mike Mogis I wanted Violent Femmes meets the new Blade Runner soundtrack. I'm looking for the intersection between Kendrick Lamar and The Fairport Convention."
TOUR DATES:
8/31 - Columbus, OH @ Wexner Center for the Arts *
9/4 - Pittsburgh, PA @ Spirit Lodge *
9/5 - Boston, MA @ Brighton Music Hall *
9/6 - New York, NY @ Bowery Ballroom *
9/7 - Philadelphia, PA @ PhilaMOCA *
9/8 - Richmond, VA @ The Camel *
9/9 - Washington, DC @ Black Cat (Backstage) *
9/11 - Durham, NC @ The Pinhook *
9/12 - Atlanta, GA @ Drunken Unicorn *
9/13 - Tampa, FL @ Crowbar *
9/14 - Tallahassee, FL @ The Wilbury *
9/15 - New Orleans, LA @ Gasa Gasa *
9/17 - Austin, TX @ Barracuda *
9/18 - Ft. Worth, TX @ Main at South Side *
9/19 - Oklahoma City, OK @ Opolis *
9/20 - Lawrence, KS @ Bottleneck *
9/21 - St. Louis @ Off-Broadway *
9/22 - Davenport, IA @ Village Theatre *
9/23 - Indianapolis, IN @ Hollar on the Hill Festival
9/24 - Lexington, KY @ The Burl *
10/9 - Cleveland, OH @ Mahall's ^
10/10 - Toronto, ONT @ Drake ^
10/11 - Ferndale, MI @ Loving Touch ^
10/12 - Chicago, IL @ Lincoln Hall ^
10/14 - Madison, WI @ High Noon ^
10/15 - Minneapolis, MN @ 7th Street Entry ^
10/18 - Boise, ID @ Funky Taco ^
10/19 - Seattle, WA @ Sunset Tavern ^
10/20 - Portland, OR @ Doug Fir Lounge ^
10/22 - San Francisco, CA @ Rickshaw Stop ^
10/23 - Los Angeles, CA @ The Echo ^
10/24 - San Diego, CA @ The Casbah ^
10/25 - Phoenix, AZ @ Valley Bar ^
10/27 - Denver, CO @ Larimer Lounge ^
11/21 - Oxford, UK @ The Jericho Tavern
11/23 - Leeds, UK @ Hyde Park Book Club
11/24 - Glasgow, UK @ Broadcast
11/25 - Manchester, UK @ YES
11/27 - London, UK @ Sebright Arms
11/28 - Brussels, BE @ Botanique (Autumn Falls)
11/30 - Groningen, NL @ Vera
12/1 - Den Haag, NL @ HINK
12/2 - Hamburg, DE @ Nachtasyl
12/3 - Berlin, DE @ Schokoladen
12/4 - Dresden, DE @ Scheune
12/5 - Vienna, AU @ Arena
12/6 - Zurich, CH @ Rote Fabrik
12/7 - Freiburg, DE @ Swamp
* w/ Black Belt Eagle Scout
^ w/ Trace Mountains
Related Articles
View More Music

Stories
More Hot Stories For You