Rising Stars Mall Tour Returns to Walt Whitman Mall This Saturday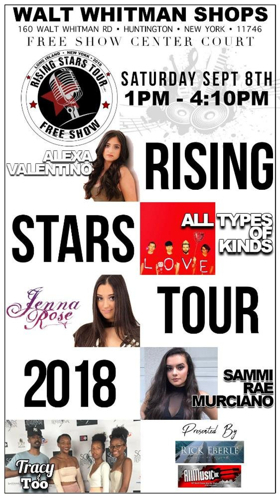 Once again, some of Long Island and greater NY's best young talent is getting ready to invade one of the area's premier malls! On Saturday, September 8th from 1PM-4:10PM, the Rick Eberle Agency and All Music Inc. present the second 2018 Rising Stars Tour at Center Court of the Walt Whitman Mall (160 Walt Whitman Rd, Huntington, NY)!
The event will feature live performances by Pop Singer/Songwriters Sammi Rae Murciano, Jenna Rose, and Alexa Valentino, along with Indie/Alt-Rock band All Types of Kinds and R&B/Soul group Tacy & Too as a set of intimate showcases in a unique venue, continuing to bring entertainment into the shopping experience!
Alexa Valentino started singing at the young age of four. While her initial musical interests were in theatre, by the time she was ten years old she had written her first song. She lends her voice to causes that are important to her, in particular those that are focused on anti-bullying and helping others, especially animals. Valentino appeared with Summer Jam 2017, a production of Artist One Tours, singing her hit anti-bully single "Free 2 Love", which has generated national interest with over thousands of YouTube views to date. She was a featured artist for Dats Fuego Entertainment's Labor Day Bash on the pier in Wildwood, NJ and performed with her Team Alexa backup dancers at The East Northport Festival. She even recently had the opportunity to collaborate with LI's Debbie Gibson on her second single "Driveway" and can't wait to share more music with her friends and fans.
All Types of Kinds (or ATOK) plays a wide variety of music ranging from rock to pop, folk, punk, funk, hip-hop, blues and country - even sometimes all at once. The members come from diverse backgrounds that make for an amalgamation of musical textures and vibes. Their EP, "Love Songs (Or Songs For Your Ex)" debuted on Valentine's Day 2018 and they are currently gearing for dates all over the country. The band consists of Ray Rubio (Guitar), Billy Conahan (Guitar), Berk 0 (Percussion), and Rocco Stroker (Bass and Guitar) - all of whom have unique musical backgrounds. Ray, 22, a multi genre artist and singer/songwriter, hails from Harlem NY and has also been on stage from young age, mainly theater productions. Ray attended the American Academy of Dramatic Arts in 2014, and since then has been performing his music in the New York Metro Area and Richmond, Virginia. Billy, 26, is a Queens native whose been on the stage since his early teens as a stand-up comedian, singer/songwriter folk artist playing his own folk tunes as well as cover tunes. He has also appeared with Renee Fleming at Lincon Center in Der Rosenkavalier Berk O, singer and percussionist, is from Brooklyn and also contributes to the band's songwriting process, while Rocco is the newest member of the band - playing bass, guitar and in an incredible vocalist. He has also proven to be a skilled arranger of music. He is now residing in Danbury, Connecticut.
In 2010, Jenna Rose gained media attention at 11 years old with her video "My Jeans". The Music Video went viral on Youtube with over 15 million views and catapulted her rapidly into the public arena. With this success came newspaper articles, teen magazine interviews & live performances on National Television. In 2012 she filmed a Music video for her remix of "Walk On By" with the legendary singer Dionne Warwick. Soon after in 2013, Jenna released her original song "Forget You" which played on iHeart Radio, WKTU 103.5 in NYC in the Weekend Top 30 where it stayed for 6 weeks and registered on Mediabase. Now at 18, Jenna recently released her latest original song and Official Music Video "Do Or Die" written and produced by Ryan and Jack Metzger. Jenna will be featured soon in an upcoming documentary set for release on netflix.
A Long Island native, Sammi Rae Murciano has been singing for four years, and garnering a ton of praise from audiences nationwide. As a recent review by Digital Journal stated - "Her breathy vocals are expressive, and reminiscent of a young Demi Lovato", and for Murciano, singing is her passion. Inspired by a wide range of talents before her, she has cited her major influences as everyone from Beyoncé to Demi Lovato, Rihanna, Adele, Dua Lipa and many more. Her strong and soulful voice is well beyond her years at the young age of 17, and knowing that you have to believe in yourself and have confidence to be successful has been her continued mantra. Her latest three song EP "The Story" focuses on anti-bullying and the hardships Murciano has faced and overcome in the past. It includes singles "Reflection" along with "Back to Me" - about wanting to move forward and finding the strength to trust and love again, and "Never Letting Go" - a track she says she wants "to inspire others" continuing "no one should let anyone stop them from doing what they love". The final track also sums up the feelings that connect through the whole EP in a sense, one of the lyrics being "Take the risk or the chance to lose it all, let the burning desire go" which she expresses as "meaning you should always take a chance and do what you are passionate about each and every day." She is set to release new music in 2018!
Tracy is a group of three sisters, Shijuan Williams, Sydney Williams, and Tyler-Lenai Williams who have been singing almost their "entire life." Coming from a musically-inclined family from Freeport, Long Island - their brother, Anthony Williams is known as "Too" who performs poetry and rap and their younger sister, Sincere Williams, sings as well. They came to fame back in 2015-2016 with two widely praised performances at Harlem's famed Apollo Theatre, in which they came in second at Ameteur Night. It's no surprise they quickly gained notoriety, as the sisters had always sang at family occasions since they were young. However, they officially became Tracy five years ago. "Our bond as family and blend as vocalists just formulates so well, it's strange," says Shijuan, "it's like God made all three of us with different voice types to go together. Seriously amazing! We take the best from each other and that's what makes us Tracy," says Sydney.
So on Saturday, September 8th, 1PM-4:10PM make sure to catch some of today's newest and brightest rising music talents at Center Court of the Walt Whitman Mall for the second installment of the 2018 Rising Stars Tour!
Related Articles View More Music

Stories
More Hot Stories For You