Riot Ten Releases HYPE OR DIE: GENESIS REMIXES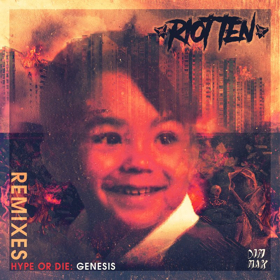 Establishing himself as one of the hottest rising stars in dubstep, Riot Ten released an onslaught of spirited pit anthems via his Dim Mak EP Hype or Die: Genesis. The official Remixes package sees Basstrick, JayKode, INF1N1TE, Blunts & Blondes, A.M.C, Bailo, and Effin provide thrashing alternative takes, continuing to push the limits of bass music.
The "Hype or Die" producer conquered 2018, performing for massive audiences at Coachella, Nocturnal Wonderland, Lost Lands, Electric Zoo, Bass Canyon and several other festivals.
Riot Ten
also travelled the world, embarking on headlining tours throughout North America, Asia and Australia, supporting the pair of Dim Mak EPs he released last year, Hype Or Die: The Dead and Hype or Die: Genesis. Genesis served as one of Riot Ten's most celebrated releases to date, with YourEDM proclaiming, "This is what dubstep should sound like." Never one to slow down, the new remixes arrive as
Riot Ten
prepares to kick off 2019 with new performances, starting January 18th at Dallas' Lizard Lounge. Alongside his headlining shows, he'll join select dates this winter on
Adventure
Club's "Death Or Glory" tour, supporting the group in Los Angeles, Boise, Boston and Washington, D.C.
.
About RIOT TEN:
Born and raised in Texas, RIOT TEN exploded into the world of EDM with his unique blend of dubstep, trap, and electro at the young age of 22. Newly signed to DIM MAK Records, with music out on Rottun Recs, Bassrush, and Never Say Die, RIOT TEN blasted off with four #1 top 100 dubstep singles and his music is heard around the world from the likes of DJ Snake, Excision, Zeds Dead, The Chainsmokers, and more. His 2017 single, "f It," saw #1 on the charts for 2 consecutive months and became a staple on The Chainsmokers' "Memories Do Not Open" tour in 2017. This success helped pave the way for his global smash "Rail Breaker," the dubstep anthem of 2017 and 2018 and one of the most played out songs cross genre lines. The song continues to see support by Excision, Borgore, Flosstradamus, Snails, Steve Aoki, SKisM, and more. Following the release of "Rail Breaker,"
Riot Ten
dropped his debut EP with DIM MAK called Hype or Die: The Dead in Feb of 2018, which recorded a top 10 debut on iTunes Dance Album Charts, a feat that is seldom seen by an artist in the genre. RIOT TEN wasted no time in following this up with a second EP Hype Or Die: Genesis to coincide with his 40+ city "Hype Or Die 2018 Tour," recording sell out shows across the US in nearly every major market. He also appeared at many high profile festivals in 2018, including Nocturnal Wonderland, Electric Zoo, Los Lands, Sunset Music Festival, Global Dance Fest, Bass Canyon, Imagine Music Fest, and more.
Hype or Die: Genesis Remixes Tracklist:
1. Riot Ten "No Surrender (feat. Jeff Kush) [Basstrick Remix]"
2. Riot Ten & Krimer "Blitz (feat. Virus Syndicate) [INF1N1TE Remix]"
3. Riot Ten & Lit Lords "Till We Die (feat. Milano The Don) [JayKode Remix]"
4. Riot Ten "Mash Up The Place (feat. Messinian) [A.M.C Remix]"
5. Riot Ten & Krimer "Blitz (feat. Virus Syndicate) [Blunts & Blondes Remix]"
6. Riot Ten "Act a Fool (feat. Bok Nero) [Bailo Remix]"
7. Riot Ten & Lit Lords "Till We Die (feat. Milano The Don) [Effin Remix]"
Riot Ten 2019 Tour Dates
1/18 @ Lizard Lounge - Dallas, TX
1/19 @ Houston Underground - Houston, TX
1/25 @ The Marc - San Marcos, TX
2/7 @ The Firmament - Greenville, SC
3/1 @ Westcott Theater - Syracuse, NY
3/2 @ Barrymores Music Hall - Ottawa, Canada
3/8 @ Palladium - Los Angeles, CA **
3/9 @ Club Elan - Savannah, GA
3/22 @ Revolution Center - Boise, ID **
4/18 @ House of Blues - Boston, MA **
4/19 @ Echostage - Washington, D.C. **
5/18 @ Red Rocks Amphitheatre - Morrison, CO
** =
Adventure Club
Death Or Glory Tour
Related Articles
View More Music

Stories
More Hot Stories For You