Patrick Paige Of THE INTERNET Releases New Video For 'The Party Song (Do My Dance) Ft. Forte Bowie / The Best Policy'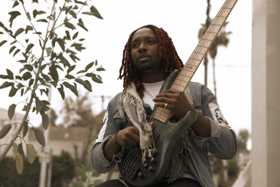 THE INTERNET's bassist and producer Patrick Paige released his debut solo album Letters Of Irrelevance this past Spring. Today, he shares a new offering from the record in the form of a video for "The Party Song (Do My Dance) ft. Forte Bowie / The Best Policy."
Patrick Paige had this to say about the video, which was directed by Topshelf Junior: "I wanted to show the duality of the difficult time in my life where I still made an attempt to go out and enjoy myself. But. Even with trying to maintain a social life, at some point when it was all over I still had to go home, alone, and face my demons."
WATCH / SHARE "THE PARTY SONG (DO MY DANCE) FT. FORTE BOWIE / THE BEST POLICY"
Letters Of Irrelevance was written and produced by Patrick Paige and also features THE INTERNET's frontwoman Syd, as well as Kari Faux, and Forte Bowie and other appearances by Khadi Don, Andris Mattson (of Moonchild), Durnand Bernarr, Paris Strother (of King), Dave Rosser and Nick Green of NickeyDavey, G Perico, and a previously recorded acapella of Patrick's mother.
Related Articles
View More Music

Stories
More Hot Stories For You