Mipso Release New Video For SERVANT TO IT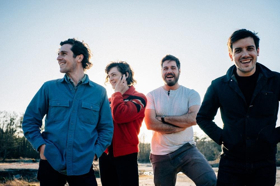 North Carolina's beloved Americana band Mipso have released an official video for "Servant To It," a track from their recently released acclaimed album Edges Run. Premiering with Culture Collide, the video shows the behind-the-scenes dynamic and shenanigans of the band on the road. Mipso's Libby Rodenbough (vocals, fiddle, songwriter) describes, "There's a romantic myth about artists that doesn't square with the banal kind of privilege it usually takes to be one publicly. "Servant To It" is a wink at that myth. This video is a portrait of our reality as working musicians. Jacob Blumberg, the creator, came out on the road with us on a recent run down through the Deep South, and he put together a ton of material-disposable camera stills, old VHS camcorder footage, etc.-in a way that conveys the fun and silliness and strangeness and madness of touring."
Mipso is currently on an extensive North American album release tour, with dates coming up in the Pacific Northwest and across the Midwest through mid-May, and summer and fall dates still to be announced. Visit www.mipsomusic.com for the complete list of Mipso's upcoming tour dates.
Mipso's fourth studio album, Edges Run, was released April 6th to critical acclaim from critics and fans alike. The album shot up the Billboard charts, including a #1 debut on the BillboardBluegrass Album chart. The band's new music has also been receiving extensive Spotify support with placement on popular Americana playlists including Fresh Folk, Roots Rising, Morning Acoustic, Pulse of Americana and others. The album has been praised as "Best New Music" by American Songwriter Magazine with PopMatters stating, ""...enjoy making multiple runs through Edges Run to let its tried-and-true virtues - from intricate harmonies to magnetic musicianship to splendid storytelling - soak in before feeling an emotional rush that you'll want to experience again and again."
Mipso has always been a creative democracy, and on Edges Run the band takes this ideal to greater lengths than ever before. "We'd all seen a lot of change in a short period," says Sharp of the time between the band's 2016 release, Coming Down The Mountain, and Edges Run - recorded in early 2017. "Three of us moved out of the Triangle area and into other places. We had relationships end and deaths of friends and family members."
Those events alone could account for the deeply introspective themes on Edges Run, recorded during the dead of winter in Eugene, Oregon. "We were beginning to feel, probably for the first time, that youth was more behind us than ahead, and so I think we were all feeling different pressures closing in," says Sharp. So the band took a step back to consider their songs-in-progress - and took a leap of faith in traveling far from their North Carolina comfort zone to record in Oregon with producer (and bassist) Todd Sickafoose (Ani DiFranco, Andrew Bird, Anaïs Mitchell).
They carried with them into the sessions a desire to stretch themselves beyond previously known roads of composition and performance. For the first time, Mipso came to the studio with sketches of songs rather than fully-fleshed arrangements and decided to co-write songs together, also a first for the band. Call it a new level of confidence or a developing collective consciousness, but with five years as a band and hundreds of nights on the road together, with the release of Edges Run Mipso retains its traditional roots while becoming thoroughly modern, intuitive musicians with the ability to transcend conventions and embrace what lies ahead.
"We have a better idea of what we can do, and how we want to do it," says Sharp.
Watch the video here:
MIPSO ON TOUR
5/2/18 - Domino Room - Bend, OR
5/3/18 - Doug Fir Lounge- Portland, OR ++
5/4/18 - Tractor Tavern - Seattle, WA ++
MIDWEST
5/11/18 - Carnegie Hall - Lewsiburg, VA **
5/12/18 - Mainstage - Morgantown, WV **
5/13/18 - Club Cafe - Pittsburgh, PA **
5/15/18 - The Ark - Ann Arbor, MI **
5/17/18 - Turf Club - St Paul, MN ^^
5/18/18 - sty Barn Sessions - Spring Green, WI ^^ - Sold Out
5/19/18 - Lincoln Hall - Chicago, IL ^^
5/20/18 - Bell's Eccentric Cafe - Kalamazoo, MI ^^
++ w/ Anna Tivel
** w/ Courtney Hartman
^^ w/ The Lowest Pair
MIPSO SUMMER TOUR DATES
6/154/18 - Blue Ox Music Festival - Eau Claire, WI
6/17/18 - Clearwater's Great Hudson River Revival - Croton-On-Hudson, NY
7/13/18 - Red Wing Roots Music Festival - Mount Solon, VA
8/5/18 - Mishawaka Amphitheatre w/ The Weepies - Boulder, CO
8/6/18 - Chautauqua Auditorium w/ The Weepies - Boulder, CO
8/16/18 - Green Mountain Bluegrass & Roots - Manchester, VT
9/15/18 - Whale Rock Music Festival - Templeton, CA
Related Articles
View More Music

Stories
More Hot Stories For You