Minka Debut SUGAR & CREAM Video, Plus Announce 2/14 Release of END OF THE AFFAIR EP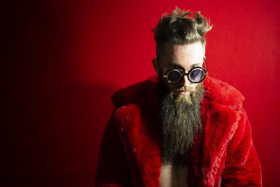 Ari "Dick" Rubin formed MINKA in Philadelphia six years ago, and while his band has gone through several incarnations, the city's native son has been the one constant, serving as the collective's ringleader and bearded lead vocalist, songwriter and keyboardist - equal parts madcap Hassidic rabbi and whirling dervish holy fool. Today, MINKA announces their new EP, End of the Affair out February 14, 2019, debuting a video for first single "Sugar & Cream" - watch and share via Youtube.

"Sugar & Cream" follows our hero, Dick Rubin, as he explores the outer reaches of sexuality. The video, an homage to Japanese cinema of the 1980's, paints an alternative portrait of intimacy. "Every day of our lives, we consume food - but do we stop to consider the erotic potential of this activity? The possibilities are endless," Rubin explains.

The Valentine's Day release of the intensely felt, post-breakup EP marks the first of three individual MINKA projects planned for 2019, including an EP of upbeat party tunes, and an experimental EP in which the classically trained pianist will interpret several of his favorite orchestral vocal pieces by the likes of Schubert, Schumann, Faure and Strauss and update them in his own words, with a modern pop production.

On End of the Affair, Rubin has forsaken the band collaborations of years past for an approach distinctly his own, turning to his love of '80s R&B/soul, a genre an ex-bandmate dubbed, "nostalgiacore," though the term doesn't quite capture the new songs' emotional directness and thoroughly modern thump.

The new EP sees Rubin pulling off a teasing falsetto "unashamedly" inspired by his idols Prince and D'Angelo on the sensuous "Sugar & Cream", which starts in the kitchen before moving into the boudoir. "Sentimental Girl" is pure blue-eyed Philly soul that harks back to the likes of Hall & Oates and Todd Rundgren through the filter of Gamble & Huff and The Stylistics, with the sensuous, spoken word come-on of Isaac Hayes or Barry White. "Secret Lover" offers the undercurrent of danger as it recounts the real-life tale of an illicit affair that found our hero climbing down the fire escape as the boyfriend entered the apartment. A chicken-scratching funk guitar highlights the lustful "That Look" while in the ultimate break-up song "All I Ever Had", Ari channels none other than Lou Reed for a walk on the wild side.

Rubin has studiously avoided writing love songs up until now, but End of the Affair found him reeling after the demise of a year-long relationship. "I've never used music as a therapeutic device before, either," he admits. "But what ended up coming out was slightly sad and kind of sexual because they reflect the state of mind I was in at that moment."
Related Articles
View More Music

Stories
More Hot Stories For You