MUTEK.SF Announces Culinary Events For Upcoming Festival May 3-6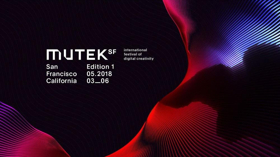 Today the visionary international festival MUTEK.SF has announced culinary events for its upcoming edition in San Francisco May 3-6, the festival's first edition in the United States. Parallel to the forward-thinking music and arts programming, MUTEK.SF has curated a variety of culinary experiences to expand the scope of cultural offerings passholders can encounter.
MUTEK.SF has curated a series of underground pop-up dinners in collaboration with Feastly that will occur throughout the festival, featuring cuisines and chefs that resonate with themes of integration, permutation, immigration, and futurism. The meals will reflect the culinary diversity of San Francisco, and will occur at pop up spaces throughout the city. Half of the tickets to these meals will be reserved for MUTEK.SF passholders. Participating chefs include Tracy Goh, Hanif Sadr, Geoffrey Reed, Eric Pascual, Francis Ang, Laura Millan & Sayat Ozyilmaz, Shane Thomas, and Siska Marcus. The events curated for MUTEK.SF will be available HERE.
Feastly is an online marketplace connecting enthusiastic diners with talented chefs, through experiential dining, diverse cuisines, and intimate connections with the chefs. As an integral part of the culinary landscape of San Francisco, Feastly and MUTEK.SF are thrilled to meet you at these underground tables!
Additionally, MUTEK.SF will help festival goers eat like a local, offering a limited set of reservations to some of the city's most in-demand restaurants during the festival. Access to these preferred seats seats will be limited to MUTEK.SF passholders through a special reservation line. Participating restaurants include Octavia, Rintaro, Cockscomb, Prubechu, Mr. Jius, The Perennial, Urban Tavern, Montesacro Pinseria, Son's Addition, Hillside Supperclub, Francisca's, and Kin Khao. Info can be found HERE.
Through the MUTEK.SF app (which will include venue/artist details) festivalgoers will also discover approximately 60 San Francisco restaurants within close proximity to MUTEK.SF venues, providing opportunities to refuel during the festival. This curated selection of restaurants represents San Francisco's food scene through MUTEK's lens, and we have curated a selection of restaurants that represent the city's diversity and creativity. Many of these restaurants will offer MUTEK.SF Passholders special deals.
MUTEK.SF has named Chef Preeti Mistry, the executive chef of Navi Kitchen and Juhu Beach Club, as the festival's culinary ambassador. Mistry is a two-time James Beard Award nominee for "Best Chef of the West" in 2017 and 2018, and is a chef whose approach to food and cuisine, blending cross-cultural disciplines, flavors, and techniques, mirrors the lens through which MUTEK San Francisco has curated its programming. Mistry will be serving her Indian-American cuisine throughout the day into the evening of Experience, MUTEK.SF's day-into-night closing event at The Midway
These extensive happenings come after MUTEK.SF has announced its full music and art lineup, featuring headliners Tim Hecker,Mortiz von Oswald (in his first live solo appearance in the United States), and more.
The complete MUTEK.SF artist lineup is as follows: 214 (US) / 8ULENTINA (US) / artificiel (Alexandre Burton & Julien Roy) (CA) / Article C (US) / Bézier (US) / Austin Cesear (US) / Aux 88 (US) / Braille & Chelley Sherman (US) / Brian Reinbolt (US) / Christina Chatfield (US) / Christopher Willits (US) / Convextion (US) / Craig Dorety (US) / Debit & Giselle Zatonyl (MX+AR) / DIBIA$E (US) / Equiknoxx (JM) / Erik van der Molen (US) / Foozool (US) / Francesco Tristano feat. Derrick May (LU+US) / Galaxy 2 Galaxy (US) / Greg Zifcak (US) / Indy Nyles (US) / Jackie House (US) / Jesse Woolston (NZ) / Joanie Lemercier (FR) / Joey Verbeke & Ya_mur Uyan?k (US+TR) / Jonathan Beilin & Magnus Pind (US+DK) / King Most (US) / Kyoka (JP) / Last Faith Studio & Subpac (US) / Lee Gamble (UK) / Marpi (US) / Matias Aguayo (CL) / Night Sea (US) / Nonotak (FR/JP) / Only Now (US) / Orphx (CA) / Perera Elsewhere (UK) / Roche (US) / rRoxymore & Trece Cielos (FR+MX) / Russell E.L. Butler (US) / Secret Sidewalk (US) / Siete Catorce & Pecoo (MX) / Solar & C.L.A.W.S. (US) / Telefon Tel Aviv (US) / Tim Hecker (CA) / Topazu (US) / Vague Terrain (US) / Watkins & Peacock (US) / Woulg & Push 1 Stop (CA)
Showcasing diverse cultural experiences in music, visual and performing arts, culinary arts, and beyond, MUTEK.SF will present San Francisco and the United States with a one-of-a-kind weekend that will surely be familiar to veterans of MUTEK's international editions while capturing the distinct spirit of the California city.
Related Articles View More Music

Stories