Liz Brasher Releases New Single LOVE FEATS, Plus Announces Debut Album On Fat Possum Records In 2019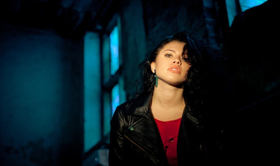 Following a breakout year for Liz Brasher, including cross country tours with rock and roll legends The Psychedelic Furs and The Zombies as well as Red Wanting Blue, today she's announced her follow up to the Outcast EP from earlier this year with a debut full-length album coming on Fat Possum Records January 18th, 2019. Today sees the first taste of the new album with "Love Feasts" before Brasher heads back on the road with The Psychedelic Furs for an east coast run this fall. Speaking to the single Brasher says ""Love Feasts" is a stream of subconsciousness that came out of me in maybe 10 minutes. It was fast. I had been reading poetry, the book of Jude, and doing a lot of self-reflecting. In turn, it came out as a mixture of beautiful imagery wrapped in darkness. It's not about any one particular thing. It's a song you can look at from different perspectives and still find new meaning over time. At its core it begs the listener to be watchful of who they let in to their intimate space. It also asks them to always forgive when they have been wronged (the inevitable). To undergo purification, reconciliation, and ultimately completely letting go of what has happened."
Liz Brasher's debut album showcases her robust voice, accompanied by her technical guitar playing and allegorical songwriting, with her inspirations stemming from a myriad of musicians, wandering from Pops Staples to surf guitar icons The Ventures. Brasher has a punch to her playing on record, but when it comes to her live performances, she is an absolute powerhouse show stopper. Brasher distills this passion and vigor into eleven powerful tracks on her debut LP.
Liz Brasher's Painted Image sees this fiery vocalist and band leader digging into her past and present to create music that is as timeless as it is refreshing. Hers is a diverse sound rooted in the influence of Brasher's two homes: her adopted hometown of Memphis; and her childhood stomping grounds in rural North Carolina, where she was raised in a musical, multi-ethnic household that influences every aspect of her creative work.
NPR Music called Brasher's a "singular sound...coupled with abundant inherent talent" and described her genre spanning work, as like "turning a prism to behold all the colors of refracted light." Rolling Stone Country championed Liz Brasher as an artist you need to know saying she sounds like "Memphis soul meets garage rock, marinated in gospel and the vocal fury of Florence Welch".
"Brasher's voice seems to come from many places and eras at once, from early soul and girl groups to modern pop" - NPR's Weekend Edition

"Brasher's strain of soul, is one that's flush with lyrical nods to Biblical images, Rubber Soul harmonies and a gruff reverence to its southern roots" - Billboard

""Body Of Mine" recalls the girl-group thing, but somehow feels totally contemporary, too - it delivers power and frailty in equal measure" - NPR Music
Fat Possum Records, the venerable Oxford, MS label founded in 1991 by Matthew Johnson, gained instant recognition with albums by Mississippi bluesmen Junior Kimbrough and R.L. Burnside. One of the most diverse labels around, Fat Possum is also the home to The Black Keys, Al Green, Townes Van Zandt, Spiritualized, The Walkmen, Wavves, Melody's Echo Chamber, Soccer Mommy, The Districts and more.
Tour Dates
10/19 - Red Bank, NJ @ Count Basie Cntr for the Arts*
10/20 - Staten Island, NY @ St. George Theater*
10/21- Beverly, MA @ The Cabot Theatre *
10/23 - Ridgefield, CT @ Ridgefield Playhouse *
10/24 - Rockville, MD @ Robert E. Parilla PAC *
10/26 - State College, PA @ The State Theater *
10/27 - Collingswood, NJ @ The Scottish Rite Auditorium *
10/28 - Jim Thorpe, PA @ Penn's Peak *
10/30 - Englewood, NJ @ Bergen Perf. Arts Center *
11/1 - Morristown, NJ @ Mayo Perf. Arts Center *
11/2 - Richmond, VA @ The National *
11/3 - Norfolk, VA @ The Norva *
11/5 - Charlotte, NC @ Neighborhood Theatre *
11/6 - Carrboro, NC @ Cat's Cradle *
11/8 - Charleston, SC @ The Music Farm *
11/9 - Chattanooga, TN @ Walker Theater *
11/10 - Louisville, KY @ Mercury Ballroom *
* w. The Psychedelic Furs
Painted Image Track Listing:
1. Blood of the Lamb
2. Body of Mine
3. Every Day
4. Air
5. Moon Baby
6. Hand to the Plow
7. Cold Baby
8. Living Water
9. Love Feasts
10. Heaven and Earth
11. Painted Image