Liz Brasher Heads Out With The Psychedelic Furs And Joins With The Zombies This Fall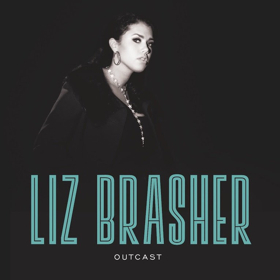 Liz Brasher's debut EP showcased her robust voice, accompanied by her technical guitar playing and allegorical songwriting, with her inspirations stemming from a myriad of musicians, wandering from Pops Staples to surf guitar icons The Ventures. Brasher has a punch to her playing that comes out on the EP, but when it comes to her live performances, she is an absolute powerhouse show stopper.
Liz Brasher's Outcast EP, released earlier this year on Fat Possum Records, sees this new fiery vocalist and band leader digging into her past and present to create music that is as timeless as it is refreshing. It's a diverse sound rooted in the influence of Brasher's two homes: her adopted hometown of Memphis; and her childhood stomping grounds in rural North Carolina, where she was raised in a musical, multi-ethnic household.
NPR Music premiered Brasher's debut EP calling hers a "singular sound...coupled with abundant inherent talent" and describing her genre spanning work, as like "turning a prism to behold all the colors of refracted light." Rolling Stone Country championed Liz Brasher as an artist you need to know saying she sounds like "Memphis soul meets garage rock, marinated in gospel and the vocal fury of Florence Welch".
After just releasing two songs, "Cold Baby" and "Painted Image", Brasher garnered the attention of NPR Music who chose her to be one of their Slingshot artists to watch for 2018. Brasher stormed the Stubb's Stage at NPR's official SXSW party, which saw her performance lauded by both Rolling Stone and NPR.
"Brasher's voice seems to come from many places and eras at once, from early soul and girl groups to modern pop" - NPR's Weekend Edition

"...driven by pure R&B fury, the Memphis native fronts a rare entity: a soul power trio." - Rolling Stone

"Brasher's strain of soul, is one that's flush with lyrical nods to Biblical images, Rubber Soul harmonies and a gruff reverence to its southern roots" - Billboard

""Body Of Mine" recalls the girl-group thing, but somehow feels totally contemporary, too - it delivers power and frailty in equal measure" - NPR Music
Fat Possum Records, the venerable Oxford, MS label founded in 1991 by Matthew Johnson, gained instant recognition with albums by Mississippi bluesmen Junior Kimbrough and R.L. Burnside. One of the most diverse labels around, Fat Possum is also the home to The Black Keys, Al Green, Townes Van Zandt, Spiritualized, The Walkmen, Wavves, Melody's Echo Chamber, Soccer Mommy, The Districts and more.