Lady Parts Justice League Release Summer 2018 Tour Dates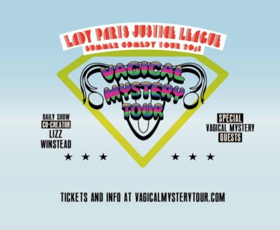 Lady Parts Justice League (LPJL), the comedy-driven reproductive rights organization announces their summer tour bringing their unique combination of comedy, activism, and on-the-ground support to abortion providers and audiences across the nation. After a wildly successful debut last summer, the 2018 Vagical Mystery Tour (VMT) returns with an even more ambitious national tour that promises not only to make audiences laugh and dance, but the VMT performers will work with fans to get them to become activists in their own communities.
Hosted by Lizz Winstead, LPJL Founder and the Co-Creator of The Daily Show, the Vagical Mystery Tour will travel to eight cities over the course of eight weeks beginning June 12. Lizz Winstead and her LPJL team will be joined on the road by various special guests including Michelle Buteau (Late Night, Whenever! at WNYC), Gina Yashere (Netflix,The Daily Show), Greg Proops (Whose Line Is It Anyway, The Smartest Man in the World Podcast), Maysoon Zayid, (TED Talks, Disability Advocate), Negin Farsad (Fake The Nation Podcast, The Muslims Are Coming documentary), Jackie Kashian (2 Dope Queens), Joyelle Johnson (Late Night with Seth Meyers), Jaye McBride (Great American Comedy Festival), Beth Stelling (Netflix "The Standups"), Jenny Yang (Dis/orient/ed Comedy, "Ask An Asian"), Hadiya Robinson (Comedy Central and host of Black Ass Podcast), Helen Hong, (Wait, Wait Don't Tell Me, Host "Go Fact Yourself), Dina Nina Martinez (Founder, Lady Laughs Comedy Festival) Jill Sobule, Tina Schlieske (Tina and The B Sides), Chastity Brown (Red House Records Artist) Lori Barbero (Babes In Toyland), Janey Winterbauer (The Suburbs, Wits, Sevateem) Laurie Lindeen (Zu Zu's Petals), Danielle Cusack and Emily Schoonover (Bruise Violet) and Tricky Miki (Snatch Baby Jesus / Afterglow.)
Each show will not only present some of the most hilarious and sought after comedians in the business, but will include an informal post-show talkback with abortion providers and activists, who will inform the audience about what is at stake for abortion rights in their state, and offer tangible ways the audiences can roll up their sleeves to fight back. The Vagical Mystery Tour announces a special night of comedy and music at The Cedar Cultural Center in Minneapolis, featuring an extravaganza of sexist songs performed by some of your favorite national and local musicians! The power line-up of tell like it is women and non binary musicians include Jill Sobule, Tina Schlieske (Tina and The B Sides), Chastity Brown (Red House Records), Lori Barbero (Babes In Toyland), Janey Winterbauer (The Suburbs, Wits, Sevateem), Laurie Lindeen (Zu Zu's Petals), Danielle Cusack and Emily Schoonover (Bruise Violet). What better way to remind folks all the ways popular songs have so horribly demeaned women than by listening to badass performers belt them out, dripping with the irony they so richly deserve! "Now more than ever,
RELENTLESS
humor is needed to raise awareness about this assault on abortion access and to raise the spirits of the amazing providers who show up everyday, making lives better for us all," states Winstead.
But The Vagical Mystery Tour is not just performances.
At each stop, Winstead and the other VMT performers will extend their activism by doing direct action work with local clinics; everything from escorting patients or bringing the staff a hot meal to lawn care and sometimes even remodeling. And because the 2018 VMT takes place during an election year, they will also partner with local non-partisan grassroots organizers like NARAL OH in Columbus; Women Organizing Women in Minneapolis; WV FREE in Charleston; and Planned PARENTHOOD Action in Allentown to help get out the vote.
These comics are doing it all to help make change this fall! THE VAGICAL MYSTERY TOUR 6/12 - Bethlehem, PA - SteelStacks feat. Maysoon Zayid, Joyelle Johnson,
Jaye McBride and Lizz Winstead
6/20 - Charleston, WV - The Bakery feat. Greg Proops, Negin Farsad,
Joyelle Johnson and Lizz Winstead
6/24 - Columbus, OH - Ace of Cups feat. Beth Stelling, Joyelle Johnson,
Dina Nina Martinez and Lizz Winstead
6/28 - Nashville, TN - Exit/In feat. Nicole Atkins, Mike Doughty,
Maysoon Zayid and Lizz Winstead
7/12 - Detroit, MI - Magic Bag feat. Hadiya Robinson, Dina Nina Martinez,
Mehran Khagani and Lizz Winstead
7/17 - Southbend, IN - Vegetable Buddies feat. Helen Hong, Jenny Yang,
Jaye McBride and Lizz Winstead
7/26 - Minneapolis, MN - The Cedar Cultural Center feat
Jill Sobule, Tina Schlieske, Chastity Brown, Lori Barbero, Janey Winterbauer, Laurie Lindeen, Danielle Cusack, Emily Schoonover, Tricky Miki, Jenn Schaal and Lizz Winstead
8/2 - Milwaukee, WI - The Milwaukee Comedy Festival feat. Michelle Buteau, Gina Yashere, Jackie Kashian and Lizz Winstead
+ more TBA
ABOUT LADY PARTS JUSTICE LEAGUE
Lady Parts Justice League (LPJL) is a 501 (c3) non-profit whose mission is to infuse humor into reproductive rights spaces while also dropping knowledge and activism into our pop culture and our social lives. Our goal is to inspire folks who have not been active in the feminist and reproductive rights movements to get up and get active. LPJL's rapid response production team is made up of comedians, writers, and activists, on call 24/7 producing media and creating national actions that respond instantly to the breaking news surrounding reproductive rights issues. Equally as important to the mission of LPJL, is to raise awareness about and support independent abortion providers who bear the brunt of anti-abortion legislation and harassment. Several times a year, the League goes on the road to perform comedy shows in a USO format bringing entertainment and love to these clinics and their communities. They also provide elbow grease at the clinics themselves, including anything from bringing lunch to building a fence to planting bushes to block protesters. Understanding that reproductive rights issues vary by race, class, and gender identity, Lady Parts Justice League is committed to diversity by creating content that fosters a multicultural, inclusive experience within the reproductive rights movement.