Kerli Delivers Incredible Official Video For SAVAGES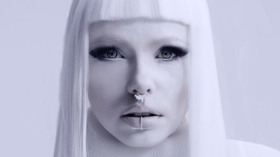 KERLI is revered by fans and critics alike for her dark, multi-faceted, avant garde pop. That reverence is duly satiated in spades as the Estonian pop singer delivers the incredible official video for her single 'Savages', from her new album 'Shadow Works'.
DOWNLOAD | STREAM KERLI 'SHADOW WORKS'
The video release also ignites the start of a special 'Savages' book on KERLI's Instagram. Fans of the album's narrative will be able to access the mystical fairytale from March 23rd, gradually revealing the narrative behind 'Savages', learning more about the video's central characters as their story unfolds day by day with love letters, poetry and secret psychology. The groundbreaking Instagram book promises to give fans of KERLI a fresh glimpse into the workings of her inner world and creative vision.
Directing the video herself and designing all of the costumes and sets, KERLI called the 'Savages' visual "a story of a toxic love". "It is an unfoldment of two human beings," she said, "their divinity and their deepest, darkest shadows."
Using juxtapositions of light and dark, the male and the female, heady, heedless submission against wounded, furious lust, the video thoroughly embodies the jarring discord that carries across KERLI's lyrics. "As I cough out fire, you're lighting up" she seethes, writhing to the beat of her composition. At times twisting wood nymph, at others High Priestess, her ethereal, other-wordly elegance is seductive and captivating, carrying with it the whispered edge of latent danger, drawing the viewer in like a fly to the spider.
Savages' is the third single to come from KERLI's second studio album 'Shadow Works'. Released at the end of February on US label Seeking Blue and a brutally honest exploration of her darker parts, the long player marked the official re-emergence of KERLIafter three years.
KERLI 'SHADOW WORKS' IS OUT NOW TO STREAM & DOWNLOAD VIA SEEKING BLUE.
CONNECT WITH KERLI:
Website | Facebook | Instagram | Twitter | YouTube | Spotify | Apple Music
Avant-Garde, mystical and magical are just some of the ways her fans describe KERLI'smusic. This unique artist has defied genre and created a musical world all her own. Hailing as Estonia's most successful musical artist, KERLI has charted in Billboard multiple times with her own music, as well as with music she has written for other artists, such as 'Skyscraper' for Demi Lovato. Her most diverse and eclectic body of work to date, her third album, titled 'Shadow Works' is set to release in February 22nd on MrSuicideSheep'simprint 'Seeking Blue'.