Jukebox The Ghost To Release 10th Anniversary Edition of Debut Album on LP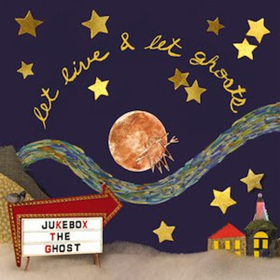 For the 10th anniversary of Jukebox the Ghost's debut album, Let Live & Let Ghosts, Yep Roc Records will release a limited deluxe edition LP on January 11. Featured on red moon-colored vinyl with glitter and foil throughout, the Joe LaPorta-remastered LP includes a poster of the band and a digital download code of the album and unreleased session tracks. The album is now available for pre-order.
In the past decade, Jukebox the Ghost have solidified themselves as one of the hardest-working trios in the independent music canon. The power pop group has released five studio albums and toured with Barenaked Ladies, Ben Folds, Motion City Soundtrack, Ingrid Michaelson, Jack's Mannequin, as well as performing on Conan and The Late Show with David Letterman.
LET LIVE & LET GHOSTS LP
TRACKLISTING
Good Day
Hold It In
Beady Eyes on the Horizon
Under My Skin
Miss Templeton's 7000th Dream
Static
Victoria
My Heart's the Same
Lighting Myself on Fire
Fire In The Sky
Where Are All the Scientists Now?
A Matter of Time
DIGITAL-ONLY BONUS TRACKS
Good Day (Thump Session)
Hold It In (Thump Session)
Beady Eyes on the Horizon (Thump Session)
Under My Skin (Thump Session)
Related Articles
View More Music

Stories