Jazz Great Dario Chiazzolino Named Ambassador Of D'Angelico Guitars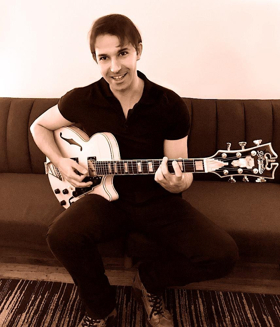 Hailed as one of the the most influential and original guitarist-composers of his generation, Dario Chiazzolino has been named Ambassador of D'Angelico Guitars throughout the world. Dario Chiazzolino is a multi-award winning Italian guitarist and composer based in NYC. One of Italy's most in-demand jazz musicians, he performs regularly and records with many top European and American jazz musicians. As someone who toured early on with legendary band Yellow Jackets, Dario is today considered at the top of his field, thanks to his unparalleled technique level, his brand new voice and his originality.
The recipient of numerous awards, Dario has been playing guitar professionally since age 14. He was awarded as "Best Guitar Player" in diverse music competitions, including Umbria Jazz Festival ( IT ), Top Jazz (UK) and on several magazines such as Italian Jazz Magazine, Guitarlist and D-Magazine. Dario Chiazzolino worldwide reputation and his star guitar playing is noticed and respected by hundreds of thousands of guitar fans throughout the world. The association with one of the top guitar brands was inevitable. Dario Chiazzolino plays the D'Angelo Excel SS.
"I am honored and proud to represent such an important guitar brand. A company which has its roots in Italy and that it so recognized in the music industry throughout the world. Playing a D'Angelico is like being home wherever I perform. " - Dario Chiazzolino
Rich in a jazz tradition and deeply rooted in this style, Dario Chiazzolino's music builds on this vital heritage and rises to new heights, evolving into a totally new musical language that no other guitarists ever reached. In almost 20 years of career, Dario has collaborated with the most prolific musicians of today's scenery including jazz figures like Andy Sheppard, Bob Mintzer, Francesco Mela, Billy Cobham, Horacio Hernandez, Jimmy Haslip, Aaron Goldberg, Dominique Di Piazza, Willy Jones III and Taylor Eigsti.
Dario Chiazzolino online: www.dariochiazzolino.com
D'Angelico Guitars is an American musical instrument manufacturer and guitar brand based in Manhattan, New York. The brand was initially founded by master-luthier John D'Angelico in 1932, in Manhattan's Little Italy. Today, D'Angelico's new models are embraced by an increasing number of professional guitarists and serious enthusiasts. D'Angelico builds instruments that respect and honor John D'Angelico's legacy of excellence and carry on the tradition of one of the world's finest guitar brands.
N*E*R*D 'Angelico website: https://dangelicoguitars.com/
Ambassador is the award that a company confers to celebrities and famous personalities who command a high degree of recognition, trust, respect and popularity amongst the people in exchange for the collaboration. A product endorsement from an authoritative figure, such as Dario Chiazzolino, is a key element in business advertising and marketing campaigns. The benefit of using a celebrity is the ability to build brand equity, meaning, business power is acquired through the name recognition, which allows the company to achieve larger sales, profits and utmost prestige.