J.D. Shelburne's Debut Single ONE LESS GIRL Gaining Traction At Country Radio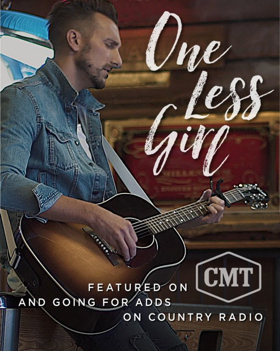 Nashville recording artist and Country crooner J.D. Shelburne has been very busy lately promoting "One Less Girl," the first single from his 4th studio album, Two Lane Town. "One Less Girl" made its world-wide premiere on CMT in September (click here to watch), and is now starting to gain traction and make an impact at Country radio, with a growing number of Program Directors adding it to their station's regular rotation.

"As an artist that has been in this town for 10 years, I can finally say I have a song on country radio! I have been working around the clock, touring non stop, meeting as many fans along the way as I can and making connections," says Shelburne. " I just picked up my 15th add on Country radio last week! I am thrilled for this and to see where it takes us. I truly feel the sky is the limit."

Stations which have added "One Less Girl" to their regular programming include: KAIR (Horton, Kan.), KQKI (Bayou Vista, La.), KRGI (Grand Island, Neb.), KWHW (Altus, Okla.), WMCI (Neoga, Ill.), KFAV (Warrenton, Miss.), WGGC (Bowling Green, Ky.), WEIO (Huntingdon, Tenn.), WMEV (Marion, Va.), WOOZ (Harrisburg, Ill.), KHBZ (Harrison, Ark.) KCNY (Greenbrier, Ark.), KRRV (Alexandria, La.), KCLQ (Lebanon, Mo.), and KXOX (Sweetwater, Tex.).

With a reputation as one of the hardest working independent artists in Nashville, Shelburne performs at more than 230 live events per year, and is a regular feature on Nashville's famous downtown Broadway corridor. Big stages are no stranger to Shelburne, who has opened for many household names in country music like Miranda Lambert, Jamey Johnson, Montgomery Gentry, Clay Walker, and many more.
J.D. Shelburne On Tour:
DEC 12 - Levee at the Riverhouse / Louisville, Ky.
DEC 13 - Premium Club Networking Series @ KFC Yum Center / Louisville, Ky.
DEC 14 - Waylon's Feed &
Firewater
/ Louisville, Ky.
DEC 15 - The Tea Cup / Taylorsville, Ky.
DEC 16 -
Ole Red
/ Nashville, Tenn.
DEC 20 - Puckett's / Franklin, Tenn.
DEC 22 -
Ole Red
/ Nashville, Tenn.
DEC 23 -
Ole Red
/ Nashville, Tenn.
DEC 30 -
Ole Red
/ Nashville, Tenn.
DEC 30 - The
Bluebird
Cafe / Nashville, Tenn.
DEC 31 - Kentucky Castle / Versailles, Ky.
JAN 12 - The Goat / Louisville, Ky.
JAN 16 - Levee at the Riverhouse / Louisville, Ky.
For a complete tour schedule,
please click here
.
About J.D. Shelburne:
Country Artist
J.D. Shelburne
grew up on a tobacco farm in Taylorsville, Kentucky, a tiny town southeast of the Ohio River near Louisville, Kentucky. At age 19, he found a guitar after the death of his grandmother and began learning to play and sing on his own. By his sophomore year of college, he had found a few gigs at some local bars in the Louisville/Lexington, Kentucky area and developed a fan-base that eventually landed him on some of the biggest stages in the business, opening for some of the nation's hottest stars.
In the last few years,
J.D. Shelburne
has become one of Kentucky's fastest rising stars, with album credits, countless shows, a loyal fan base, charity work that has raised thousands of dollars, and a list full of accolades that sets Shelburne apart from the rest.