J. Worra to Release ON THE RUN feat. Kaleena Zanders via Thrive Music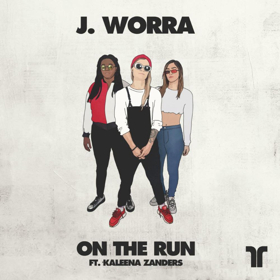 Chicago-native and DJ/producer--J. WORRA--makes her debut on highly-acclaimed dance label Thrive Music with "On The Run", featuring KALEENA ZANDERS and co-written with Venessa Michaels. "On The Run" is a vibrant house tune that marries the 90s nostalgia of Kaleena Zander's soulful voice with J. Worra's en vogue tech-filled production.

"On The Run" is J. Worra's third original release in 2019 ("Like XO", "Ride or Cry"). The previous year was filled with festivals appearances (Coachella Valley Music and Arts Festival, Lightning In A Bottle, Dirtybird Campout, Holy Ship! and more), multiple single releases and remixes ("Modern Medicine","Resolution"), and inclusion in the WAV x Mixmag's 'Magnified' series, which campaigns to highlight and uncover forward-thinking musicians.

Kaleena Zanders is best known for her emotional ballad "Stronger Than I've Ever Been (Piano Edit)" which was used as the backdrop for Toyota's tear-jerking Super Bowl commercial, and tells the story of eight-time Paralympic gold medalist Lauren Woolstencroft. The songstress has also performed with SNBRN at Coachella Valley Music and Arts Festival 2017 ("California") and Bijou at EDC: Las Vegas 2018 ("Count On Me").

Later this month, J. Worra and Kaleena Zanders will collaborate again and hit the Beyond Wonderland (Insomniac) stage for a live rendition of "On The Run", sure to get tech-house fans to "overdose on life". Stay tuned for news about the "On The Run" official music video set to also hit this March with support from WAV.

J.Worra in the press:

"[J.Worra's remix of Kaskade's "Tight"] ultimately marks another noteworthy milestone for Worra, who is coming off a tremendous 2018. With performances on the North American festival circuit at key events like Lightning in a Bottle and Holy Ship, Worra cemented her name as an exciting new house artist in the scene. With the addition of her official Kaskade remix, she looks to find similar success in the new year."
- Michael Sundius (Billboard; January 3, 2019)

"It's always exciting to witness the moment when a talented producer starts to get the recognition they rightly deserve. For LA-based, Illinois-born tech house artist J. Worra, that time is now, and we could not be more thrilled to see this incredibly gifted DJ and producer get her due."
- Erin Cropper (EDM Identity; July 11, 2018)
About J. Worra
Born and raised in a small town North of Chicago, IL, J. Worra aka Jamie Sitter has always been drawn to different genres of music. In 2011, while living in Chicago, she finally dove head first into DJing and music production. After holding several residencies in Chicago like SpyBar, The Mid, and more, Jamie decided that it was time to head West and see what Los Angeles had to offer. Even though she is now in LA, you can still hear the sounds of her roots in all of her production. Some of her biggest influences are Green Velvet, Gene Farris, Chris Lake, and Billy Kenny. When asked about how she wants to impact the music industry she said, "I want to change the tone, I want to show what women are capable of, and what hard work and being true looks like, and above all I want to impact peoples lives in a positive way."
Related Articles View More Music

Stories
More Hot Stories For You