'Imagine: John Lennon 75th Birthday Concert' Out Now via Blackbird Presents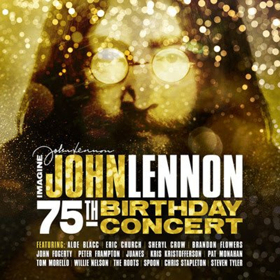 Imagine: John Lennon 75th Birthday Concert is the concert film and album release from Blackbird Presents Records featuring the collection of legendary singers and superstars who came together for a once-in-a-lifetime concert event taping in New York City at The Theater At Madison Square Garden to celebrate the songs of music icon John Lennon.
The full-length concert as a double CD, DVD and LP, as well as exclusive merchandise bundles are available at: http://imaginejohnlennon75.com/shop
Imagine: John Lennon 75th Birthday Concert features captivating performances, in-depth interviews, and compelling behind-the-scenes action with Aloe Blacc, Eric Church, Sheryl Crow, Brandon Flowers, John Fogerty, Peter Frampton, Juanes, Kris Kristofferson, Pat Monahan, Tom Morello, Willie Nelson, The Roots, Spoon, Chris Stapleton and Steven Tyler. Performances include a range of Lennon classics, such as "Mind Games" (performed by Eric Church), "You've Got To Hide Your Love Away" (performed by Kris Kristofferson, Willie Nelson, and Chris Stapleton), an electrified rendition of "Power to the People" (performed by Tom Morello), "Happy Xmas (War Is Over)" (performed by Aloe Blacc, Sheryl Crow and Peter Frampton) just in time for the holidays, and the heart-stirring finale, "All You Need Is Love," which is available as a pre-release download today.
"John's art continues to give hope, light and happiness to generations of people everywhere. His belief that each of us can change the world continues to inspire the human race to believe in themselves, and his influence is everlasting in everyone's hearts as we all share in the possibilities and power of music," says Yoko Ono.
Keith Wortman is creator and executive producer of the show. GRAMMY® and EMMY® Award winner Greg Phillinganes ("Stevie Wonder: Songs in the Key of Life: An All-Star GRAMMY Salute") served as music director for this extraordinary concert event. DGA® Award winner Gregg Gelfand ("The Night That Changed America: A GRAMMY Salute to the Beatles") directed.
"It would be impossible to quantify the immense impact John Lennon continues to have on modern culture," says Blackbird Presents CEO Keith Wortman. "His music and lyrics continue to shape the lives of musicians and millions of fans around the world. I can't think of any better way to honor his legacy than with this extraordinary album."
Blackbird Presents is the worldwide leader in the production of large-scale concert events, broadcast specials, TV series, music festivals and tours.
Blackbird's recent concerts, broadcast specials and releases include All In For The Gambler: Kenny Rogers' Farewell Concert Celebration, Sing Me Back Home: The Music of Merle Haggard, The Life & Songs of Kris Kristofferson, Imagine: John Lennon 75th Birthday Concert, Outlaw: Celebrating The Music of Waylon Jennings, I'll Take You There: Celebrating 75 Years of Mavis Staples, The Life and Songs of Emmylou Harris, Lynyrd Skynyrd: One More For The Fans, The Musical Mojo of Dr. John: Celebrating Mac and His Music, and All My Friends: Celebrating The Songs and Voice of Gregg Allman, the latter of which earned a 2014 GRAMMY® Award nomination for Gregg Allman and Taj Mahal's awe-inspiring performance of "Statesboro Blues."
Blackbird Presents is also the creator and producer of The Outlaw Music Festival Tour, in partnership with Willie Nelson; The American Roots Music & Arts Festival, in partnership with Eric Church; and The Last Waltz 40 Tour.
Visit us at www.blackbirdpresents.com