Gabriel Communications Announces New 'Country's Family Reunion' Series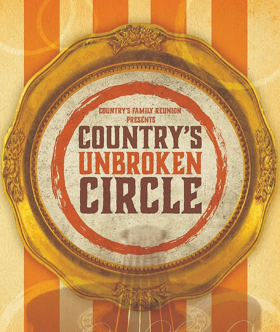 In 1935, Country music's "first family recording group," The Carter Family, released "Can the Circle Be Unbroken." The song (a hymn reworked lyrically by the group's patriarch, A.P. Carter) would become one of the genre's early commercial hits. Later, it would become symbolic of the "family of Country music," in recognition of its roots and the artists who would carry those traditions forward for future generations. In celebration of this idea, Gabriel Communications is pleased to announce its latest 'reunion' series and DVD collection, "Country's Family Reunion Presents: Country's Unbroken Circle," which affirms that, even today, traditional country music is alive and well and the "circle" remains enjoyably intact.
Excerpts from the series will premiere beginning this Friday, November 30 at 8 p.m. Eastern/7 p.m. Central on RFD-TV and run through April. Each episode will re-air on the following Saturday at 12 a.m. Eastern/11 p.m. Central (check local listings for exact airtime):
Nov. 30: Darrell McCall, Justin Trevino, Charlie McCoy, Laney Smallwood, Duane Allen, Rhonda Vincent, EmiSunshine
Dec. 7: Jim Lauderdale, Joshua Hedley, Johnny Lee, Cherish Lee, T. Graham Brown, Lee Roy Parnell
Dec. 14: Eddy Raven, Jeannie Seely, Jimmy Fortune, Darin & Brooke, Aldridge, T. Graham Brown, Lee Roy Parnell, Gene Watson, Laney Smallwood
Dec. 21: EmiSunshine, Rhonda Vincent, Bill Anderson, Linda Davis, Neal McCoy, Ray Benson, Suzy Bogguss, Joshua Hedley, Darin & Brooke Aldridge
Dec. 28: Rhonda Vincent, Mark Wills, Jeannie Seely, T. Graham Brown, Gene Watson
The series is available for purchase in its entirety at www.cfrvideos.com or by calling 1-800-820-5405.
Hosted by longstanding Grand Ole Opry member and Hall of Fame inductee, "Whispering Bill" Anderson, the series is shot in Gabriel's trademark "Country's Family Reunion" style, with legendary artists gathered into one room to reminisce, share stories and perform while the cameras roll.
"Unique to this reunion, each artist was asked to invite someone whose work has helped/is helping to reinforce the 'circle' of traditional country music," explains Executive Producer, Larry Black. "They did not disappoint."
Cherish and Johnny Lee share a moment with Bill Anderson.
"Country's Unbroken Circle" features performances by Anderson, Paul Overstreet, Jim Lauderdale, Ray Benson, Gene Watson, Rhonda Vincent, Suzy Bogguss, Jamey Johnson, Stonewall Jackson, Linda Davis, Johnny Lee, Larry Gatlin, Darrell McCall, Neal McCoy, Justin Trevino, Charlie McCoy, Johnny Lee, Cherish Lee, Lee Roy Parnell, Ben Hall, Mo Pitney, Eddy Raven, Jimmy Fortune, Darin and Brooke Aldridge, Jeannie Seely, Laney Smallwood, T. Graham Brown, Teea Goans, Bobby Tomberlin, Mark Wills, The Malpass Brothers, EmiSunshine, Joshua Hedley, Duane Allen, Rory Feek, Sam Williams, Billy Dean and Andy Griggs.
"Mr. Jukebox," Joshua Hedley and "The King of Swing," Ray Benson
About Country's Family Reunion:
Started in 1996 as the idea of long-time disc jockey, Larry Black, Gabriel Communications specializes in "Reunion Videos." The success of this television and DVD series spurred the creation of more than a dozen more projects featuring hundreds of songs and stories as well as Country's Family Reunion News, a monthly newspaper which highlights the music of yesteryear, as well as a weekly format spin-off television show on RFD-TV called "Larry's Country Diner." Gabrielle Communications has additionally applied the Reunion concept to sports and created videos involving the legends of stock car racing and collegiate football teams. For more information on Country's Family Reunion products, please visit: www.cfrvideos.com.
Related Articles View More Music

Stories