Elhae Returns With TROUBLE IN PARADISE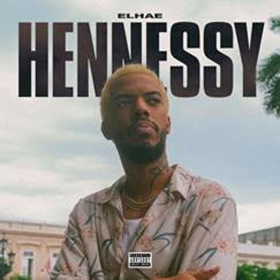 Atlantic Records has announced the eagerly awaited new project from acclaimed singer ELHAE. "TROUBLE IN PARADISE" arrives Friday, February 22nd at all DSPs and streaming services.
An intricately plotted 12-track conceptual project inspired by favorite albums by Kid Cudi, Childish Gambino, and Kendrick Lamar, "TROUBLE IN PARADISE" is heralded by a new companion visual, "Hennessy," streaming now HERE following its exclusive première earlier today via Billboard.
"It's the beginning," ELHAE says of the track. "The kid is just going through it. When we go through things, we tend to drink. So, he's asking all of these questions as he's throwing them back. It happens when anybody goes through turmoil in a relationship. It feels like all hope is lost in the beginning. 'Hennessy' captures that."
ELHAE - which stands for "EVERY LIFE HAS AN ENDING" - is among today's most innovative and undeniable new artists, blessed with a distinctive R&B sound all his own. The ATL-based artist "weaves church-bred soul with unfiltered bars while pouring his heart on wax," raved Billboard. "ELHAE is spreading his vibes and gaining a fan base due to his genuinely, organic performances," declared The Source. "A constant flow of emotions and genres, this talent delivers aesthetically-charged music without compromising his realness."
Born Jamaal Jones, the North Dakota-native has crafted a remarkable bled of rap, soul, R&B, gospel, and more on such unique projects as his 2015 breakthrough, "AURA." Named one of Sprite's "P.O.U.R. Purveyors of Urban Reality," ELHAE signed with Atlantic in 2017 and quickly released the "ALL HAVE FALLEN" EP, available now at all DSPs and streaming services. Acclaimed by The FADER for its "very tender tone," the project is highlighted by the evocative single, "Doesn't Matter (Feat. Kehlani)."
Released later that same year, "AURA II" such hits as boasted "Drama," "Something," and "Bang Your Line (Feat. Ty Dolla $ign)," the latter earning more than 10.5 million Spotify streams and counting. High-profile collaborations - including featured appearances with Lecrae and Eric Bellinger, as well as a North American headline tour alongside blackbear - followed, as did his debut performance before an audience 40,000 strong at 2018's Coachella Valley Music & Arts Festival.
CONNECT WITH ELHAE