DREAMERS Set to Release LP 'LAUNCH FLY LAND'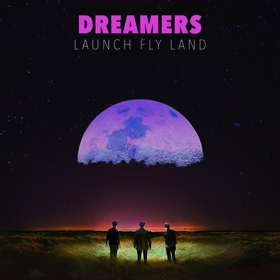 DREAMERS are happy to announce the release for their new album LAUNCH FLY LANDon April 26. Today the band reveal the new track, "Insomniac." Of the song the band's Nick Wold notes, "I've always been obsessed with sleep and dreams. From practicing lucid dreaming to drawing artistic inspiration from the bizarre mind trips we have each night. It's a big part of what attracted me to the name Dreamers. 'Insomniac' is about lying awake unable to sleep, unable to quiet the mind, caught in the spider web of doubts, loneliness and haunting memories."
Pre-order LAUNCH FLY LAND here
Last month the band shared the infectious "Die Happy" which has over 1 million streams on Spotify and counting.
DREAMERS are no strangers to the road and will be supporting LAUNCH FLY LAND with tours throughout 2019. They recently crossed North America with You Me At Six that included a sold-out show at New York City's Gramercy Theater. The band have now confirmed a tour with Dirty Heads with dates that kick off July 2 in Dayton, OH and conclude August 20 in Salt Lake City, UT. Further, DREAMERS will be making stops at Governors Ball on June 1, Lollapalooza in August and the UK's Reading and Leeds festivals August 23 and 24, respectively.
LAUNCH FLY LAND is the follow up to 2016's This Album Does Not Exist , which spawned a national radio hit, the electro-sprinkled pop gem" Sweet Disaster." Three other songs also charted nationally: the '90s throwback "Drugs," the crooning " Wolves (You Got Me), " and the soulful, brisk power-pop of their single "Painkiller." Last year saw the trio drop 2 EPs, LAUNCH and FLY which included the radio hit "SCREWS."
While DREAMERS originally intended on releasing three EPs, they ended up writing so many songs for the final installment of the trilogy that it organically morphed into the LP. "Making this album was a really fresh way of doing things for me because we essentially had two years to keep writing and come up with as many ideas as possible," the band's Nelson explains. "In the past it's always been crunch time and a lot of deadlines and I feel like having this type of a timeline allowed us to get deeply creative." Along the way DREAMERS also enlisted help from their friends such as Joywave vocalist Daniel Armbruster making for an album that integrates the sense of community the band feel with other bands in the current alternative scene.
From experiencing the arena-rock grandeur of landing a coveted opening slot on Stone Temple Pilots' 2015 U.S. tour to performing at the Meadows Music & Arts Festival alongside Jay-Z and Gorillaz, there have been plenty of highs for DREAMERS over the past five years. But there have also been a fair share of crushing lows when it's come to dissolving relationships and personal struggles -- and that duality is present all overLAUNCH FLY LAND. "The first two EPs were all about this big breakup that I had been through and these new songs were written in the aftermath of that, so in a sense this album is really the sound of me discovering myself." The aura of loneliness and longing at the core of today's single "Insomniac," exemplifies that alienation whereas "Die Happy" takes the other side, "It was written after I was coming out of the emotional weight of a breakup and starting to fall in love with the love song again," Wold explains. "I'm obsessed with the Beatles, especially their early material which was so joyful, so I wanted to write a song in that spirit. It's just about those small moments that you have that make you think this is a good life and you could die happy."
The sentiments of triumph and tragedy on LAUNCH FLY LAND, are universal and DREAMERS are happy to have come out on the other side with these songs serving as an affirmation of the experience. "We can't wait to get out on the road and share these songs with people," Wold summarizes. "In the end, that's what this is all about."
Related Articles View More Music

Stories