Craig Finn Announces US Tour Dates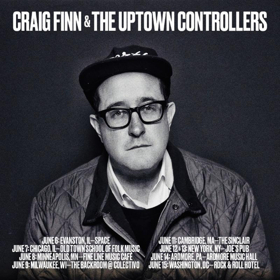 Craig Finn has announced live dates surrounding his soon-to-be-released solo album, I Need A New War. The shows - which see Finn backed by his touring band, The Uptown Controllers - begin June 6 at SPACE in Evanston, IL, and continue through the month. Fan pre-sales begin Wednesday, February 20 and all remaining tickets will be released to the general public on Friday, February 22. Additional dates will be announced. For complete details, please visit craigfinn.net/tour.
CRAIG FINN & THE UPTOWN CONTROLLERS
U.S. TOUR 2019
JUNE
6 - Evanston, IL - SPACE
7 - Chicago, IL - Old Town School of Folk Music
8 - Minneapolis, MN - Fine Line Music Café
9 - Milwaukee, WI - The Backroom @ Colectivo
11 - Cambridge, MA - The Sinclair
12-13 - New York, NY - Joe's Pub
14 - Ardmore, PA - Ardmore Music Hall
15 - Washington, DC - Rock & Roll Hotel
I Need A New War arrives Friday, April 26 via Partisan Records. The third installment of a trilogy - following 2015's Faith In The Future and 2017's We All Want The Same Things - the new LP once again sees Finn expertly chronicling our complex, often confusing, modern era, drawing deeply felt character studies about regular people trying to respond to extraordinary times, attempting to find connection whilst wondering how to keep pace with a world moving faster than they are. The LP further finds Finn focusing his lens on New York City - his home for the last 18 years.
"Perhaps forward motion is everything," says Finn. "The characters in the songs on this record, and the last two, are trying to keep up and keep their heads above water. They succeed or they don't, but their stories are the tales of their attempts at pushing ahead. And so, with my own push forward, I feel lucky and excited to be sharing these songs and stories."
I Need A New War is available for pre-order now in physical and digital formats. All orders through Finn's official D2C store (HERE) include a bonus digital EP featuring b-sides and alternate versions from the album. Additional exclusives include a one of a kind, signed hardcover lyric book (featuring lyrics to all songs from the trilogy, photos by Dan Monick and a foreword written by celebrated author and journalist Rob Sheffield), signed vinyl, an enamel pin set, and more.
I Need A New War was heralded last month with the first single, "Blankets," available now at all DSPs and streaming services following its exclusive premiere via NPR, which wrote, "'Blankets' contains a lifetime within its four minutes. Things come together ('We hung on for several summers') and things fall apart ['It got druggy and we crumbled']. But for the narrator, no matter what's transpired, some things remain ['Still I haven't never loved her']. There's a sensation of instability, but also a spirit of inevitability, and as with so much of what Finn weaves, there's grace through it all."
Finn's new live video for "Blankets" was shot at the Murrmrr Theatre in January 2019 when Finn presented the new album for the first time. It features the musicians from the record, including Josh Kaufman, Stuart Bogie, Joe Russo, and more.
I Need A New War was recorded in early 2018 at The Isokon in Woodstock, NY with producer Josh Kaufman and engineer D. James Goodwin, both of whom teamed with Finn on his widely acclaimed previous solo releases. The album features musical contributions from many of his regular solo collaborators, including Kaufman, horn master Stuart Bogie (Arcade Fire, Antibalas), vocalists Annie Nero and Cassandra Jenkins, and drummer extraordinaire Joe Russo.
NPR further praised the new LP, writing, "I Need A New War grapples with consequence. Characters - often referred to by first name - reckon with the lives they've built, reflecting on the circumstances that put them in those positions and places. The tracks, as they frequently do in Finn's body of work, unfold like short stories, with stray observations and specific details setting the scene."
Related Articles
View More Music

Stories