Country Music Community Reacts to Passing of Roy Clark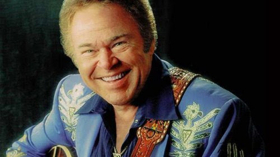 The country music community is mourning the loss of Country Music Hall of Fame and Grand Ole Opry member Roy Clark who passed away this morning following complications of pneumonia. He was 85.
"Roy Clark was an amazing musician and entertainer. He made pickin' look fun to all of us young kids. I loved Roy Clark and he loved me. I'll really miss him but he will not miss me where he's at. There's no missing in Heaven." -Ricky Skaggs
"Just got word that Roy Clark has passed. I've known him for 60 years and he was a fine musician and entertainer. Rest in Peace buddy, you will be remembered."
-Charlie Daniels
"Country music fans around the world will miss Roy Clark. He not only knew how to play the guitar and make it look easy, but he also knew how to hold his mouth and make it look like fun." -Ray Stevens
"A great man, a great American, and a GREAT friend has gone to be with JESUS. Oh yeah, almost forgot, he could pick and grin a little bit too. REST IN PEACE, OLD FRIEND." -Larry Gatlin / Larry, Steve & Rudy: The Gatlin Brothers
"Roy Clark helped bring country music to a whole new level with his concerts, Hee Haw, and his guest appearances on Johnny Carson's Tonight Show. He was one of the kindest and most talented people in our business. I have lost a friend, but the music world has lost a great treasure." -TG Sheppard

"He was one of my best friends. One of the most talented people I have ever met. He was a true gentleman who was nice to his fans and friends. One-of-a-kind. We'll truly miss him." -Moe Bandy
"Roy Clark was arguably the best entertainer to step onto a country music stage. Roy loved everyone and everyone loved him. He will be sorely missed." -Leroy Van Dyke
"Roy's pickin' and grinnin' forever changed the landscape of musicianship in country music and beyond. His playing made us practice our guitars more, all while realizing we were just trying to keep up." -John Anderson
"Roy Clark... great entertainer, great friend of my father. That's the kind of country awesomeness I grew up with. Rest in Peace." -Pam Tillis

"I had the pleasure of meeting Roy several times. We always ended up talking about airplanes. He was an aviator also, and loved it like I do. What a great talent and special man he was. He'll be missed." -Aaron Tippin

"Today, many of us have heard about the passing of Roy Clark, realizing another of the patriarchs of country music has gone on. Roy Clark brought laughter as well as his music to the true sense of entertainment. He will truly be missed."
-Marty Raybon / Shenandoah

"Roy Clark's musicianship was second to none, period. One of the most gifted guitar players and entertainers in country music history... the smile, the slight of hand, a magician with six strings. RIP." -Larry Stewart / Restless Heart

"The country music community has lost one of its greatest emissaries with the passing of Roy Clark. How many of us grew up listening to Roy on the radio and watching Roy on TV? I know I did. Hee Haw was a show I never missed. Roy did it all... he was a genuinely funny comedian and his extraordinary musicianship was inspiring to an entire generation of players. His instantly recognizable voice will never be forgotten. Let's all pray for peace, love and comfort for Roy's family." -Dave Innis / Restless Heart

"With the passing of Roy Clark, we have lost another legend who isn't replaceable. Roy's trademark guitar pickin' and distinct voice will never be forgotten. Ride in peace."
-Doug Gray / The Marshall Tucker Band

"Woke today to the sad news of Roy Clark's passing. Yet another country music legend, from that great generation, is gone. Roy was a phenomenal musician, brilliant entertainer, and more importantly, a sweet, kind, world-class gentleman. I always enjoyed the time I had the honor of spending with him. We will miss you, Roy." -Collin Raye

"My daddy always said that Roy was the best guitar picker of them all. I think he might've been right and we are sure going to miss him. Thanks for the music, my friend."
-Darryl Worley

"Roy Clark was one of the multi-instrumentalist my grandma introduced me to at a young age. Hearing him play 'Under the Double Eagle' blew my mind and challenged me to push myself. Though he may have moved on to a better place, his music and arrangements will live on to inspire generations to come, as he did me. RIP Roy." -Craig Wayne Boyd

"Roy Clark had a brilliant musical mind and found a way to turn that into entertainment... he kept us on the edge of our seats to see what he would do next. Keep pickin' and grinnin', Roy." -Billy Dean

"The boys and I were just talking about Roy on the bus Saturday night when Hee Haw came on. We are going to miss a hell of an entertainer. Great musician and a really funny guy. God bless him." -Sammy Kershaw