Claptone, Bear Grillz, Chris Lake, Habstrakt And More Added To Disco Donnie Presents Inaugural Ubbi Dubbi Festival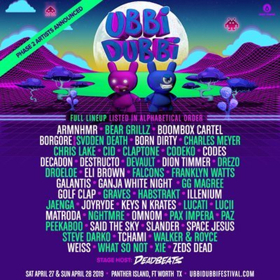 Amplifying the spectacular diversity of its initial lineup, Disco Donnie Presents announces phase 2 of its inaugural Ubbi Dubbi, April 27 and 28, featuring a dynamic array of an additional 26 artists including Bear Grillz, Chris Lake, CID, Claptone, Drezo, Droeloe, Habstrakt, Jaenga, Lucati, Pax Impera, Steve Darko, Walker & Royce, and more. They will join phase 1 artists recently announced including, Boombox Cartel, Borgore, Galantis, Ganja White Night, Golf Clap, Illenium, Tchami, Zeds Dead concluding with over 50 artists on three stages under the stars on Panther Island in Fort Worth, Texas.

The wide-reaching range of styles is inspired by the festival theme which centers on two music-loving best friends Ubbi and Dubbi who washed up on Panther Island, an enchanted setting that's straight out of a fairytale, nestled in a fork on the Trinity River in Fort Worth, Texas. Dubbi who loves dubstep and trap, taught Ubbi about electronic music, and now he loves house and techno. Their combined love for music promises to give everybody something to dance about. As with all of its events, in addition to some of the most adventurous electronic sounds from world-renowned artists, DDP will deliver powerhouse, extravagant stage and light show design throughout the weekend. Disco Donnie adds, "The Ubbi Dubbi phase two talent announcement aims to kick off 2019 strong by incorporating new genres and artists to help diversify the Ubbi Dubbi lineup. Our goal is to provide a little of everything for the fans - stay tuned for new surprises this spring".

Ubbi Dubbi follows the incredible success of DDP's debut of Freaky Deaky Texas last Halloween weekend with over 50K attendees and it is the latest production by DDP Worldwide who also produces Ultimate Music Festival Experience, Sunset Music Festival, Sun City Music Festival, and thousands of tours headlined by the biggest names in the electronic music space throughout the year.
Ubbi Dubbi Festival
Panther Island, Fort Worth, TX 76102
April 27th & 28th
3pm-midnight
Age 18+
Full Lineup in Alphabetical Order
ARMNHMR
Bear Grillz
Boombox Cartel
Borgore b2b Svdden Death
Born Dirty
Charles Meyer
Chris Lake
CID
Claptone
Codeko
Codes
Decadon
Destructo
Devault
Dion Timmer
Drezo
Droeloe
Eli Brown
Falcons
Franklyn Watts
Galantis
Ganja White Night
GG Magree
Golf Clap
Graves
Habstrakt
Illenium
Jaenga
Joyryde
Keys N Krates
Lucati
Lucii
Matroda
Nghtmre
Omnom
Pax Impera
Paz
Peekaboo
Said the Sky
Slander
Space Jesus
Steve Darko
Tchami
Walker & Royce
Weiss
What So Not
Xie
Zeds Dead

About Disco Donnie Presents
Disco Donnie Presents (DDP) is an award-winning and recognized leader in electronic dance music event production, founded by veteran promoter James "Disco" Donnie Estopinal. Since the company's inception in 1994, DDP has generated over 10 million tickets sold and 10,000 live events, arena shows and outdoor festivals in over 100 markets around the world, including the U.S., Mexico, Canada and Latin America. DDP organizes and promotes nearly 1000 club events annually in markets all across the U.S., ranging from Portland, Philadelphia, Houston, Tampa, New Orleans, Dallas and St Louis to name only a few. Major festivals include Ultimate Music Experience, Sunset Music Festival, Sun City Music Festival, and more.

James "Disco Donnie" Estopinal, Jr. is DDP's founder and CEO. Considered one of the godfathers of U.S. electronic dance music, Disco Donnie has grown over the past 24 years to become one of the leading dance music promoters in the world. From his early days in the 1990s New Orleans dance scene, Disco Donnie coupled eccentricity with ingenuity to create elaborately themed parties that charmed patrons, garnered an international following, and unwittingly became a catalyst for a national debate over the First Amendment right to expression.
In 2017, Disco became part of LIVESTYLE Entertainment. The current LIVESTYLE portfolio includes Disco Donnie Presents, React, Life in Color, ID&T (Tomorrowland, Sensation, TomorrowWorld), Beatport.com, Electric Zoo, Awakenings, Q-Dance, and more.
Tickets on Sale Now