Calliope Musicals Announce New Album COLOR/SWEAT To Be Released 6/14, New Single Out Today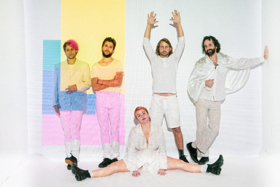 Austin's Calliope Musicals are excited to announce the forthcoming release of a new album Color/Sweat. The LP will be released on June 14 via Rhythm and Reason and marks their first for the label. Today they share album single "That's Why We Dance" and of the track front-person Carrie Fussell notes, "this is meant to be an anthem to quell your life crisis and usher your state of uncertainty and/or panic into one of joyful resistance and a love of our magical existence."
LISTEN TO "THAT'S WHY WE DANCE" HERE
Previous to today's single Calliope Musicals shared "Cosmic Poison Arrow."
Since their inception Calliope Musicals have created a party with each live show they put on. NPR's Robin Hilton just cited their recent SXSW show as the best he saw that day, and Billboard have noted "the crowd swells significantly as passersby get sucked in." The band have confirmed a handful of pre-release dates including a stop at Rough Trade in Brooklyn on April 20. All dates are listed below and more to be confirmed soon.
Austin's reputation as a haven for misfits, oddballs and outlaws of all stripes actually delivers when it comes to Calliope Musicals. Since their inception they have aimed to give the middle finger to that music scene's cult of masculinity by way of flourishing a far wider spectrum of human color. Said by the Austin Chronicle to stick out like a "sore thumb" on the city's music scene, Calliope Musicals stands up for Austin as a frontier town for outlaws of all stripes.
Color/Sweat is the follow up to 2016's Time Owes You Nothing of which USA Today noted they, "make infectious pop music that exists somewhere on the wavelength between folk and psychedelia." While not a concept album, the new LP is largely one of empowerment and autonomy in a social climate that is actively working against those things. Carrie notes, "it was pretty jarring to wake up the morning after our president was elected, knowing that I was waking up in a world that doesn't value humanity and life and kindness and diversity. This wasn't just happening in my personal life, but in lots of peoples' lives and I couldn't have written a record that didn't address that even if I tried. We absolutely have to lift each other up and encourage each other, now more than ever, and forever more than now."
The album was recorded at the Bubble in Austin, Texas with Frenchie Smith. "He has such an adventurous spirit when it comes to recording," Carrie explains, "and most of the process was a game of chicken where no one gave up and there was a sort of magical explosion of sound as a result."
The joyous, quixotic defiance of Color/Sweat is a party for the end of this world and a journey to the next one. When asked to sum up the spirit of Calliope, Carrie herself put it: "We came from space. We're all going to die." That's why we dance.
Calliope Musicals tour dates
4/12 - Dale, TX - Old Settlers Music Festival
4/13 - Claremore, OK - Easter Island Music Festival
4/15 - Cleveland, OH - Beachland Tavern
4/17 - Boston, MA - The Middle East *
4/18 - Philadelphia, PA - Boot & Saddle *
4/20 - New York, NY - Rough Trade *
4/21 - Washington DC - DC9 *
4/25 - Birmingham, AL - The Nick
4/26 - Hot Springs, AR - Maxine's
4/27 - San Marcos, TX - Martian Arts Festival
* = with the Kolars
Photo by: Kate Blaising
Related Articles View More Music

Stories
More Hot Stories For You