CHON Announces North American Holiday Shows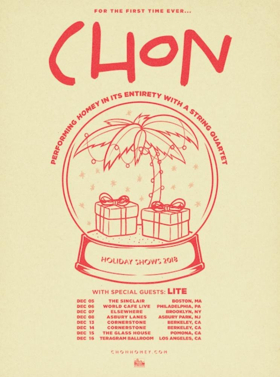 CHON has announced a run of North American holiday shows, featuring support from LITE. For this special run of intimate shows, CHON will be performing their 2017 album Homey in its entirety alongside a string quartet (dates listed below). For more information, please visit: http://www.chonofficial.com/.
Homey was released in June 2017 via Sumerian Records, and can be purchased/streamed via iTunes, Amazon, Google Play & Spotify. Underneath a canopy of electronic-tinged soundscapes and tapestries of lush guitar mastery, you can practically feel the Southern California coast come to life on Homey.
Following the success of 2015's Grow and worldwide touring with everyone from Periphery and Animals As Leaders to Circa Survive, the instrumental trio-brothers Mario [guitar] and Nathan Camarena [drums] and Erick Hansel [guitar]-returned home to San Diego in the summer of 2016 to begin work on what would become their next musical offering. For the very first time, they rented a rehearsal space a stone's throw from the ocean, and the beachside locale's influence courses through 12 virtuosic and vibrant new musical movements.
Those vibes transformed CHON into a vital force since their emergence in 2008. Grow marked their first entry on the Billboard Top 200, landing prominently in the Top 150. They impressively average 144K Spotify streams monthly with over 10 tracks cracking the 1-million mark and fan favorites such as "Story," "Bubble Dream," and "Can't Wait" surpassing 2 million-a remarkable feat for a chiefly instrumental act. Homey sees them expand once more, incorporating a slew of future bass influences with collaborators such as Go Yama on "Berry Streets" and Lophile on "Nayhoo", which also features a vocal cameo from Masego.
For more information, please visit: http://www.chonofficial.com/.