Bandsintown Reveals 41 Breakout Artists To Catch at SXSW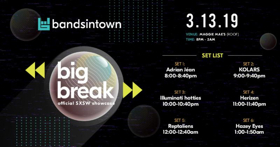 Bandsintown, the most trusted source for concert discovery, has revealed their list of 41 Artists to Catch at SXSW to help those trekking down to Austin pick and choose what acts to see this year. The list spotlights an eclectic group of artists who have grown exponentially on the platform over the last 12 months and are truly on the verge of breaking out. Bandsintown users will be able to find out more information on these 41 acts' schedules for the week inside the mobile app under the "2019 SXSW Trackstars". Check out the full list and learn more about the artists HERE.
Bandsintown is returning to SXSW next week for its second annual Big Break Showcase. The festival's first and only fan data-driven official showcase will take place on Wednesday, March 13th from 8:00 PM - 2:00 AM on the rooftop of Maggie Mae's on 6th Street. Be sure to RSVP HERE.
The Bandsintown Big Break Showcase at SXSW will feature live performances by R&B singer Adrian Jean, LA rock duo KOLARS, critically acclaimed indie-pop group illuminati hotties, R&B vocalist Herizen, Portland's Reptaliens, and electronic solo act Hazey Eyes.
Bandsintown's "Big Break" is a fan data-driven emerging artist program that identifies artists who have demonstrated a notable increase of trackers on the platform within a six-month period. Thanks to their reach of 130 Million music fans, 50 million registered concert goers, and 500,000 touring artists, Bandsintown is able to tap into live music insights and see who concert-goers are obsessing over before everyone else. Artists who qualify for Big Break receive promotion across Bandsintown's robust digital network, customized editorial, in-app features, brand partnerships, touring, special showcase opportunities, and social media promotion.
"We're thrilled to be returning to SXSW to help shine a light on this eclectic group of artists who are rapidly growing their audiences on Bandsintown," said Fabrice Sergent, Managing Partner of Bandsintown. "Big Break is the first fan data-driven emerging artist program and is especially unique in its ability to detect promising emerging artists at a very early stage while simultaneously helping fans discover music's most promising up-and-comers. We look forward to celebrating their bright futures in Austin."
SXSW badge holders are invited to join Fabrice for a mentor session on Wednesday, March 13th at 5:00 PM. For more information and RSVP details, click HERE. Also, be sure to catch Kristin Yasuda, Director of Artist Partnerships, at the "Beyond the Playlist: Marketing tools for artists and managers" panel to discuss marketing tools for artists and managers.
About Bandsintown Big Break
Since launching the program in September of 2017, more than 20 emerging artists have joined the Big Break family. From UK rocker, Yungblud, to R&B crooner, Cautious Clay, these talented newcomers have seen massive growth in their careers since onboarding. "Bandsintown is really valuable in ensuring the group's fans know about upcoming shows and it's really awesome they're supporting emerging artists," said indie pop band Peach Pit's manager. Check out all our Big Break artist here: http://bit.ly/2T6BEcm
About Bandsintown
Bandsintown believes that live music brings people together through unique communal experiences and creates happiness and understanding in the world.
Bandsintown celebrates artists and helps them grow their careers. As the most trusted source of concert discovery, Bandsintown is where artists and fans connect.
With a reach of 130M Monthly Active fans globally, 50M registered concert goers and 500k touring artists registered to the platform, Bandsintown offers digital marketing solutions to engage with the most passionate music fans. Bandsintown managing partner Fabrice Sergent was recently named one of The Most Creative People in Business 2018 by Fast Company.
"Changing the concert business, one show at a time." Billboard
Related Articles View More Music

Stories
More Hot Stories For You