Alt/Indie-Pop Recording Artist Vaeda Black Set to Release Latest Single & Video SUICIDE LOVE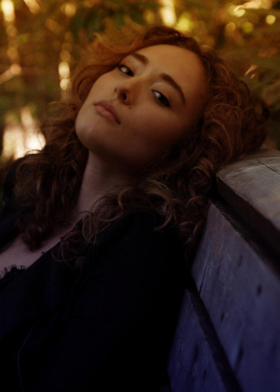 Following the successful release of 2017's "Face Down" which Substream Magazine described as holding "Very heavy indie vibes!" and had The Daily Listening "Mesmerized for life" -Vaeda Black is BACK with her latest single "Suicide Love" out Wednesday, October 10th! With a music video to follow Directed by James Morano with choreography by the Tony Nominated and Emmy Winning AC Ciulla, it will be a passionate visualization of being consumed by love and lost in emotion. As she gets ready to release it, she'll also be performing live Headlining the Long Island Fall Festival October 7th and at NYC's Arlene's Grocery October 9th. (Details Below)
Raised in Centerport, NY, Vaeda Black is the pseudonym of 16 year old singer songwriter Celia Spero, a senior at both Harborfields HS and Long Island High School for the Arts. The most prominent thing you notice about Vaeda Black is her powerful stirring voice reminiscent of early soul, which is most unexpected. A masterful songwriter, Vaeda is able to tap into a profound and sometimes dark place and it's certainly reflective in her music both lyrically and sonically. Live performances with her band display her ability to connect with audiences, a skill she's developed from many years on the stage, having performed in musical theater productions starting at only 7yrs old. Currently training in Classical Voice in NYC, Black has participated in both the NYSSMA and SCMEA festivals annually and was selected as an Alto-1 and member of the All-State Treble Choir in both 2017 and 2018.
WATCH: Vaeda Black "Face Down" Official Video
Upcoming Shows:
Sunday, October 7th, 8:00PM @ Long Island Fall Festival (Headliner), Huntington, NY
Tuesday, October 9th, 7:45PM @ Arlene's Grocery, New York, NY
Black is quite tenacious in her focus to remain artistically genuine, with lyrics that are both thought provoking and at times provocative. In a world that tends to speak about art in terms of genre, this can be somewhat problematic for artists that don't exist in a box.
"When I write, I like to just start singing and writing down whatever the music makes me feel. When I wrote 'Face Down', I was singing along to the track and the words and melody flowed perfectly with the vibes the music was giving me. The song is about accepting your deep dark desires and that they're not something to be ashamed of, because everyone has them. I wanted this song to be directed at the listener like I'm speaking to them. A quiet reassurance that whatever thoughts you're having or whatever you're going through mentally isn't something to hide, but is something to embrace. When I listen to this song it makes me feel at ease. I think it was subconsciously inspired by the things that I'm afraid of and what I need to accept about myself. Writing this song brought me to a place that I'm afraid to go to sometimes, but being able to put out a record that is so real to me set me free. It's amazing how one song can change a person."
Now, with "Suicide Love" on the way and TWO chances to see her LIVE in NY this October, fans can catch more of the rising star that is Vaeda Black.
Check out "Face Down" via Spotify HERE: https://spoti.fi/2poAyYf
Purchase "Face Down" via iTunes HERE: https://apple.co/2OHfDui